So: Is There or Is There Not A G-Spot?
Are they right or wrong? In one way, they are right — there is no actual structure called the G-spot.
In another way, they are quite wrong, as there is a structure in that area that is responsive to stimulation (the right kind, at the right time, in the right way for that particular woman at that time). But it is not a round, dime-sized spot as defined by Dr. Grafenburg for whom it is named. Nor is it a part of the vagina.  What people are wondering about, talking about and searching for is the bottom part of the urethral sponge.
The what?
Women have a structure known as the urethral sponge (aka the female prostate) that's comprised of erectile and glandular tissue. It's a tube that surrounds the tube of the urethra – like a roll of paper towels surrounding the inner cardboard tube. It's above the vagina and it's analogous to the male prostate.
The urethral sponge can be stimulated through the roof of the vagina and by pleasuring the area surrounding the urethral opening. But it is not a magic orgasm button. Most women will not enjoy having it stimulated until after they've reached mid-to high level arousal.
It's Part of A Juicy Whole
The urethral sponge is part of the Erectile Network, a complex of structures that also includes all three parts of the clitoris, the paired vestibular bulbs, and the perineal sponge. For an overview of this wonderful conglomerate of erectile structures, read Be Vulva Wise. For more details about the different structures, take a look at this post: The Missing Female Pleasure Parts. For more information on what's been misunderstood and neglected, here's another post: Lost Sexy Bits.  (It includes a quickie home play assignment.)
The urethral sponge also houses the glands that produce the fluid know as female ejaculate. (Another post addresses this controversy: Discover the Source of Female Ejaculation.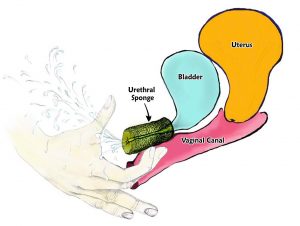 Women can become aroused and orgasmic by stimulating any of these structures (and in many other non-genital ways as well) but in general, the best arousal and orgasms happen when all of these structures are thoroughly stimulated.
The Inner Upper Sponge
The urethral sponge is not a magic hot button that you can just push for an automatic orgasm. However, when a woman is already at high level arousal and the outer parts of her erectile network are pleasingly puffed, stimulation of the urethral sponge can be extraordinarily and intensely pleasurable! Since it's made of highly innervated erectile tissue, it's pleasurable presence becomes quite obvious as it swells. Once you experience it, you'll never again doubt whether it's really there!
---
---
Online Courses
Here's another way to learn more about the wondrous, elegant and integral female genitalia: Attend any of the relevant online classes:
---
Save
Save
Save
Save
Save
Save
Save
Save
https://intimateartscenter.com/wp-content/uploads/2014/10/Urethral-Sponge-Fingers-FI.jpg
430
1500
Sheri Winston
https://intimateartscenter.com/wp-content/uploads/2016/09/IACLOGO.png
Sheri Winston
2016-02-02 04:28:19
2017-06-20 17:19:36
G-Spot Reality Check