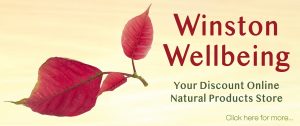 How To Get Your Free Sheri Winston Course
Here's how to get your FREE Sheri Winston online course of your own choosing (valued at $67).
Sign up for Winston Wellbeing. You will get an automatic 20% discount for all your purchases, including your first one. If you've already signed up, skip this step. (Note: You won't be able to actually check out the marketplace until you register for an account. Please register anyway. You won't be asked for a credit card and have no obligation to purchase anything.)
Buy a minimum of $100 in products from Winston Wellbeing.
Send us your Winston Wellbeing/Wellevate receipt.
Use the 100% off coupon we send you to buy whichever of our six online courses you want (Women's Anatomy of Arousal, Succulent Sexcraft, Libido: Lost and Found, Secrets of Female Pleasure, The Learnable Art of Female Ejaculation, Sizzling Sacred Sex).
Enjoy!
Your initial Winston Wellbeing purchase must be made by May 31, 2019. Purchase receipts may be submitted after that date. Coupon valid through June 30, 2019.