We must be doing something right!
We've written (and published) four books and two have won national prizes!
Check out our two Books of the Year
(awarded by AASECT, the American Association of Sex Educators, Counselors and Therapists)
---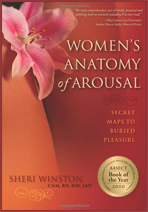 Women's Anatomy of Arousal: Secret Maps to Buried Pleasure
by Sheri Winston CNM, RN, BSN, LMT
2010 AASECT Book of the Year
The clitoris is just the tip of the volcano. Women have a largely unknown network of structures responsible for arousal and orgasm that even most medical professionals don't know about. This leaves women trying to discover their sexual potential without accurate guides. Sexuality teacher, nurse-midwife, and gynecology practitioner Sheri Winston has put the missing pieces together, creating the first-ever accurate, integrated maps of women's anatomy and sexuality. This fun, sexy, empowering guide combines lost knowledge with ancient and modern sexuality information to illuminate every woman's secret paths to fabulous, orgasmically abundant sex.
The book is chock-full of information, illustrations, erotic art, games and exercises, hot tips for guys, a guided tour, wholistic sexualityTM, orgasmic abundance … and more, more, more!
The most comprehensive, user-friendly, practical and uplifting book on women's sexuality I've ever read"
(Dr. Christiane Northrup, author, Women's Bodies, Women's Wisdom)
Over 80% five-star reviews on Amazon (out of over 100 reviews)!
---
 

Secrets of the Sex Masters
Co-authored and edited by Carl Frankel
2015 AASECT Book of the Year
For Secrets of the Sex Masters, master journalist Carl Frankel interviewed sixteen of the world's best sex teachers and, in partnership with them, turned the interviews into chapters that will help readers have the best sex of their lives.
Chapters cover what you might expect (oral sex, anal sex) as well as topics that are essential to having great sex but aren't covered in most books on the subject such as shame and sex, finding the lover within, male and female genital anatomy, and eroticizing safer sex. There are also chapters on high-level skills such as expanded orgasm for women, non-ejaculatory orgasm for men, female ejaculation, Tantra and energy sex.
All in all, you'll get a great mix of need-to-know information and Jedi-like capabilities that anyone can learn.
Contributors include:
The legendary porn actress Nina Hartley and her husband, the master dominant Ernest Greene (BDSM)
Joseph Kramer, the creator of Sexological Bodywork, founder of The Body Electric and more (touch skills)
Our own Sheri Winston, the award-winning sex educator and medical professional (genital anatomy and sexual energy)
Charles Muir, who is widely credited with bringing Tantra to the West (Tantra)
Female ejaculation expert Tallulah Sulis
Taoist master Michael Winn (male non-ejaculatory orgasm)
The creative and insightful Karen B.K. Chan (sex as improv and creative play)
Dr. Patricia Taylor (expanded female orgasm)
Rising sex-educator star Megan Andelloux (fantasy and communication)
Torontonian sex writer, sex educator and all-around provocateur Jon Pressick (anal sex)
Carlyle Jansen, owner of Good for Her in Toronto, master sex educator and prominent player in the sex-positive movement (oral sex)
Canadian sex educators Nadine Thornhill and Jessica O'Reilly (keeping the spark alive)
The thoughtful and insightful Charlie Glickman, Ph.D. (sex and shame)
The gifted sex educator Reid Mihalko (energy sex)
The Tantrika Caroline Muir (finding the lover within)
Jaeleen Bennis, founder of Bondassage ™ (Bondassage)
Sex educator Eve Minax (eroticizing safer sex).
"Explicit personal advice from some of the world's most renowned sex experts … a wise manual for how to reach optimal physical, mental, emotional and spiritual states through sexual experience."
Susan Stiritz, Sexuality Educator and Senior Lecturer, Washington University in St. Louis