In 2016 I offered a free online class about SEX TOYS: The Good, the Baaad and the Slutty.
(You can still get the recording here)
As part of all my online education, I always give lots of extra information and resources. As a Wholistic Sexuality teacher and former health care provider, I get asked questions about lubricants all the time. I figured I may as well expand this a bit into a blog post and share it with you.
So, here's a short primer on the rules of lube and why lube rules!
Why Lube?
Lubricants make everything wetter, slipperier, slick and slidey. Yum!
While vaginas do produce natural lubrication, even if you're a vagina-owner who produces plenty of natural lubricant, more is better. Also, keep in mind that while vaginal lubrication is a sign of early arousal for some women, most vaginas won't get super-slippery until the vagina-owner is in high level arousal. Beyond taking the time for a women's entire erectile tissue network to get totally engorged, this is another good reason to wait until you're really turned on before putting anything inside!
And, for those times in life when your vagina is dry, such as post-partum, post-menopause, or when you're on birth control pills, using additional lubricant can make the difference between pain and pleasure.
Using lube is also essential for anal penetration play. The anus produces little natural lubricant and the tissues are fragile.
In addition, if you are using barriers for safer sex play or contraception, lube increases the pleasure quotient significantly. A few drops of lube inside the tip of the condom increases the penis-owners' sensation (not inside the whole thing though – that would cause it to slip off!) Once the condom is on, slathering the outside will increase the pleasure for the recipient and reduce the chance of breakage—a win-win if I ever heard one! Similarly, some lube on the receiver's side of a dental dam makes that 'piece of plastic' seem to disappear.
Lubricants and Moisturizers
It's important to know the difference between lubricants and moisturizers. Lubricants make things slide and stay on the surface of your tissues. They're good for sex, reducing friction and irritation and increasing sensation and pleasure. Moisturizers are absorbed into your tissues, improving tone, elasticity and resilience.
Lube Rules
Oil doesn't mix with latex. Oil causes latex to deteriorate rapidly leading to the dreaded breakage! (or tiny holes that are huge to sperm and microbes!)
There are basically two kinds of oil-based lubricant products: those based on petroleum (Vaseline, petroleum jelly, mineral oil) and those using plant-based oils (coconut oil, sunflower oil, etc.).
No oil-based products of either kind can be used with latex products.

This includes natural latex products (the vast majority of condoms) as well as polyisoprene (synthetic latex) products.
Water-based lubricants can be used with any products.
Silicone lubes can NOT be used with silicon sex toys. They will cause them to degrade.
Condom Sense
Most condoms are made of latex, which is stretchy, thin and comes in a wide variety of sizes and styles. They're inexpensive and fine for most people. However, for people who are latex-sensitive (get irritated) or allergic (have serious reactions) or who wish to use plant-based oils like coconut oil, there are some non-latex options.
Types of Non-Latex Condoms that CAN be used with natural oils:
Polyurethane

Trojan™ Supra Condoms
Trojan BareSkin Condoms

 Nitrile
Lambskin condoms: I generally don't recommend them as they DO NOT PROTECT AGAINST INFECTIONS!
Types of Non-Latex Condoms that CAN NOT be used with natural oils:
Polyisoprene (synthetic latex) These synthetic latex products can have the same issues that natural latex does, that is, oils will degrade them.)

LifeStyles® Skyn Condoms
Durex Real Feel Condoms
Natural Plant-Based Oils
If you aren't using latex barriers, you can use any natural plant-based oil as a sexual lubricant. I recommend using organic products. You can find a wide selection at natural food store, sexuality shops and online.
My favorite natural lubricant is good old coconut oil, which acts as both a lubricant and a moisturizer! You just use it straight out of the jar. It smells and tastes delicious. It's solid when cool and a liquid when warm and it melts deliciously at body temperature. Coconut oil is also good for vaginas as it's mildly anti-fungal and anti-bacterial (but only against the 'bad' bacteria and not the 'good' ones that live in a healthy vaginal ecosystem).
Other nice body-friendly and yummy oils include almond oil, jojoba oil, sesame oil and apricot kernel oil.
Make Your Own: Yoni Balm
Yoni is Sanskrit for the 'entrance to the universe' or 'sacred garden of life'. Here's a recipe for some home-made Yoni Balm using coconut oil as a base.
¼ cup coconut oil (You can also use a mix of coconut, almond, or other plant oils.)
2 tablespoons grated and packed cocoa butter
1-2 vitamin E oil capsules
Optional: ½ teaspoon glycerin
If you like add non-alcoholic flavoring extracts: vanilla, orange, etc. (No sugar or sweeteners of any kind, though.)
Melt the coconut oil and cocoa butter gently over low heat. While cooling add vitamin E oil (empty 1-2 capsules). Add flavoring and glycerin, if desired. Pour into shallow jars or small containers.
Don't want to make your own? No worries! One of my favorite herbal companies, Avena Botanicals makes this lovely luscious velvety Yoni Creme.
Water Soluble Lubricants
Water-soluble lubricants are good for latex products and fine with silicone toys. They don't stain and are easy to wash off. Water-soluble lubes can get sticky and tacky though, so a handy trick to keep them slippery is to use a squirt bottle filled with water and just occasionally use a spritz to rehydrate your lubed body parts.
Unfortunately, most commercial lubricants have a nasty taste and are full of non-body-friendly chemicals. Luckily, there are many natural and organic products on the market now.
My favorite natural water soluble lubes are aloe vera-based. Like coconut oil, aloe acts as both a lubricant and a moisturizer! Among my recommended brands are Good Clean Love (goodcleanlove.com) and Aloe Cadabra (aloecadabra.com). Sliquid (sliquid.com) as a variety of natural lubes, including some with aloe, some without.
Make Your Own: Natural Water-Soluble Lubricant: Flax Seed Goo
May be used internally and externally. It's soothing, protective, and hypo-allergenic. Plus, when it's fresh, it has hardly any taste or smell. It's also water-soluble, thus latex-compatible.
One cup flax seeds (whole seeds-not ground)
6 cups water (think juicy sex!)
Bring to a boil. Turn down heat. Simmer 6 minutes. Turn off heat. Let sit for 6 minutes. Strain the goo from the seeds. You have now made some sexy slime.Put in large jar in the fridge and put a smaller amount in a small jar or squeeze bottle to have handy for sex. It will keep for up to 2 months in the refrigerator, 2-3 days room temperature. It may be preserved with grapefruit seed extract, calcium ascorbate or a similar vitamin C compound, vitamin E, potassium sorbate, essential oil of lavender, rosemary, sandalwood oil, or tea tree oil.

Silicon Lubes
Silicone lubes are really slippery and long-lasting. They don't wash off easily, so they're great for use in the water. Three that I like are Wet (stayswetlonger.com), Pjur (pjurusa.com) & ID (idlube.com).
Samples & Sensitivity
Many companies offer sampler packs so you can try their various products. Also, most sex-education oriented brick-and-mortar stores have lube testers available so you can feel and taste the various products. As with any product, you may be sensitive to some ingredients even if they're fine for other people. Start off by skin testing on a non-sensitive body part like your inner wrist. Assuming you have no negative reactions after a few hours, then try a small amount on your more delicate bits!
Slather and enjoy!
---
ADDITIONAL RESOURCES:
Condom Depot for all thing condom including non-latex condoms. Beyond their selection of a wide variety of latex and non-latex condoms, they also have a supremely useful Condom Size Chart so you can get the right size to improve comfort and reduce slippage and breakage.
Condom Size: Another good condom size chart.
Female Condom FAQ

What's The Best Lubricant? 10 Natural Lubes To Bring Home—Jess Kapadia, Huffington Post

What's the Best Natural Sexual Lubricant? You Might Be Surprised—Jill Richardson, AlterNet. (Though I don't agree with the author about plant-based oils)
The 5 Best All Natural Lubes—Lexi's Green Guide
---
This blog is from the More Info & Resources that goes along with a FREE ONLINE CLASS: SEX TOYS: The Good, the Baaaad and the Slutty. (You can get the recording here.)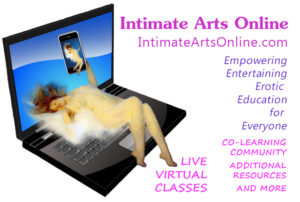 Do you like the idea of getting empowering, entertaining, erotic education for adults ONLINE? If so, we invite you to check out our Intimate Arts Online live and recorded online classes and courses. Discover a convenient, private and enlightening way to have more pleasure and expand your erotic universe. You'll be glad you did!
Download your free Orgasmic Abundance ebook and get other free erotic education stuff here!
Want more? Check out our award-winning books.
Save
Save
Save
https://intimateartscenter.com/wp-content/uploads/2015/12/Circe-Invidiosa-Waterhouse_FI_V4.jpg
430
1500
Sheri Winston
https://intimateartscenter.com/wp-content/uploads/2016/09/IACLOGO.png
Sheri Winston
2015-12-05 16:58:17
2017-08-31 13:10:42
Lube Rules!