The Intimate Arts Center
Our Mission
Provide empowering erotic education to adults and teenagers  of every gender, orientation and inclination, using our integral Wholistic Sexuality™ framework.
Our Vision
We envision a world where sex is understood, honored and free from shame, where our bodies' ecstatic potential is explored and celebrated, and relationships are based on integrity, compassion and love. We envision an integral model of healthy, loving, responsible, respectful and ecstatic sexuality for everyone!
Our Origin Story
The Center for the Intimate Arts is the brain-child (and heart-child!) of Sheri Winston. Sheri worked as a nurse-midwife, gynecology practitioner, registered nurse, childbirth educator, doula & massage therapist for over two decades. In her clinical, educational and counseling work, she became aware of the great need we have in our culture to heal our sexuality and learn to use our full sexual potential.
Over sixteen years ago, Sheri retired from birthing babies and birthed a new vision. The core ideas of an integrated, healthy, deliciously pleasurable and ecstatic model of sexuality became her Wholistic Sexuality™ paradigm. As a lifelong educator, she developed a curriculum based on that vision, an ever-expanding set of classes that covers a wide spectrum of learning needs about sexuality, intimacy, women's health and relationships.
In 2005, Sheri established the Intimate Arts Center as the next step in the evolution of her vision. In 2009, entrepreneur (and life partner) Carl Frankel joined her team, bringing his business and writing acumen to the enterprise.
Our publishing imprint Mango Garden Press publishes an ever-increasing roster of books about sex and relationships.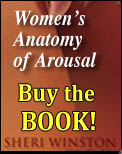 Sheri's 2010 book Women's Anatomy of Arousal: Secret Maps to Buried Pleasure received the Book of the Year award from AASECT (the American Association of Sexuality Educators, Counselors and Therapists). This was followed in 2014 by Succulent SexCraft: Your Hands-On Guide to Erotic Play & Practice, written with Carl Frankel.
What We Do
Teach online and in person about sex, intimacy, relationships and sexual & women's health. Sheri offers classes and programs for the general public as well as professional trainings, and presents at a wide variety of venues and events including conferences, colleges.
Write about sex, intimacy, relationships and sexual & women's health. Check out our books or read our blog!
Provide private counseling and coaching services.
Sheri Winston's Intimate Arts Center
For a Lifetime of  More Bliss in Bed!