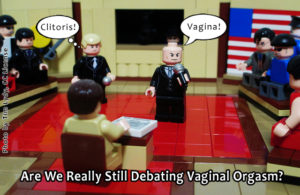 The Journal of Sexual Medicine's recent issue states that "There is general agreement that it is possible to have an orgasm thru the direct simulation of the external clitoris. In contrast, the possibility of achieving climax during penetration has been controversial." They include the opinions of six scientists with different experimental evidence debating the existence of the vaginally activated orgasm. Their conclusion? "The assumption that women may experience only the clitoral, external orgasm is not based on the best available scientific evidence."
Really? Scientists are debating whether it's possible for a woman to have an orgasm from vaginal stimulation? I hate to be snarky but 'duh'. Of course it's possible. Women having orgasms from vaginal penetration alone is's just not what happens much of the time. The majority of women—more than half—don't have orgasms with intercourse. Even for those that do, it's not usually their first or easiest path to orgasm.
And, orgasm with intercourse is certainly not the only way or the right way. There is no one right way. There is a wide spectrum of orgasms people can have, and part of that variation definitely depends on what parts get stimulated, in what ways and for how long.
But here's the thing. Woman can learn to have orgasms with intercourse—it's a learnable skill. If a woman wants to learn how. It's always important to remember that all of our erotic skills are options, not things any one has to do. And no one's a failure or broken or not sexy if they haven't yet learned how to have orgasms in any particular way.
So, I'd like to suggest we stop debating whether it's possible and turn our attention to helping women learn lots of paths to orgasm and then learn to expand their pathways to include whatever activities they want in their repertoire.
Want More? Watch my Video Blog where I answer a woman's question about How Can I Learn to Have Orgasms With Intercourse?
https://intimateartscenter.com/wp-content/uploads/2012/03/Frederick-Winthrop-Ramsdell-1899-American-Crescent-Cycles-FI_V3.jpg
430
1500
Sheri Winston
https://intimateartscenter.com/wp-content/uploads/2016/09/IACLOGO.png
Sheri Winston
2012-04-27 18:40:48
2016-09-16 20:28:28
Are We Really Still Debating Vaginal Orgasm?