Libido: Lost & Found
The Care & Feeding of Women's Erotic Fire
Recorded Online Three-Class Series, Plus Extras!
Includes three recorded online classes plus a private 'home room' page with text and video resources, 'home play' assignments, 'forever' access to the webinars, and more.
Ladies, would you like to ramp up your sex drive? Is it missing the va-va-voom you wish it had?
If so, you've got company. Women's libidos go into hiding for lots of reasons. Maybe you're peri- or post-menopausal. Or you recently had a baby and are experiencing the entirely common post-partum lack of sex drive. You may be taking medicines that are interfering with your libido. Or maybe you don't know the reason, but your sex drive is missing in action.
Where did it go? What happened to that spark of desire, the compelling erotic energy of lust and the fire of passion?
If this describes you, help is on the way! For over three decades, master teacher Sheri Winston has helped thousands of women get their groove back. Now she can help you, wherever you are! Sheri's popular in-person class is now available ONLINE, in our virtual classroom!

Join us online as we explore a variety of issues related to erotic desire, including what's normal, common issues that affect libido, the difference between responsive and spontaneous desire, and what we can do to change our libido level (if we choose to.) Come and learn the tips, tricks and techniques that rebuild your erotic fire!
What You'll Get
Week One: Understanding Libido & Desire. Topics covered during this class include:
What desire is, not what it should be
Post-birth, post-menopause, post-whatever issues with libido and desire
Spontaneous versus responsive desire
Yin and yang energetics
Week Two: How to Rebuild Your Erotic Fire
Practices for ramping it up, including your SexCraft toolkit and yin and yang breath
Arousal and orgasm
Remedies: plant medicine
Week Three: The Healing, Care and Feeding of Your Libido
Relationship and partner challenges
Healing trauma
Feeding your mind
Choosing desire
Additional libido-enhancing options
Who Is This Class For?
This class is for all women who are experiencing challenges around sexual desire, anyone who partners with women, and care providers who work with women's physical, emotional and mental health.
What Are Those 'Extras' You Refer To?
In addition to the replays of Sheri's online classes, you get special resources (text and video), suggested 'home play' assignments plus special offers just for you.
That's a lot of value for a very modest $67.

What Are Sheri's Online Classes Like?
Sheri talks on camera and shares fun and useful slides. She also answers attendees' questions, which are written out for your convenience on the bottom of the screen. Many of your questions will be answered during the classes. If not, you can post them in the ongoing discussion group, which Sheri dips into regularly.
Each class runs 75-90 minutes.
About Sheri Winston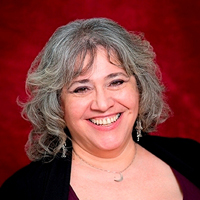 Sheri Winston is a celebrated sexuality teacher, an award-winning author and a medical professional. She brings over two decades of experience as a certified nurse-midwife and gynecology practitioner plus over a decade as a sex teacher to her work on sex, sexuality, women's health and relationships. Her book Women's Anatomy of Arousal: Secret Maps to Buried Pleasure won the 2010 Book of the Year award (American Association of Sex Educators, Counselors and Therapists)
"Sheri Winston is funny, sexy, intuitive, educational, knowledgeable, caring, informative—and always fun. She is like a walking, talking version of Our Bodies, Our Selves, only updated and more accurate." (Pat Parisi, sexuality educator, Toronto, Ontario)
"Sheri's knowledge of human sexual anatomy reaches far beyond the standard textbooks and her entertaining teaching style is not to be missed. At long last, a sex educator who cuts through our unnecessary discomfort about the most pleasurable aspect of being human! Hooray!!!" (Dee Gold, Gaithersburg, MD, yoga teacher and bodyworker)
"I would jump at the chance to take another class with Sheri. She creates a safe, wise, tasteful, respectful and loving environment. What and how she teaches is life-changing in the best way. And she makes me laugh!" (Robin S., Washington DC)
"Sheri could not be a better teacher. She is sharing adult sexual information that can't be found anywhere else. Her presentation on anatomy is earth-shaking. Her work should be the gateway for all teachers and students seeking mastery in adult sexuality. Thank you so much! (Donna L., New York NY)
 And check out these video testimonials!


You can live with low libido … or you can learn how to feed your erotic fire!
Sex can bring you enormous pleasure, satisfaction, and feelings of well-being and euphoria. Orgasms are an anti-depressant. Erotic pleasure supports general health in every way. It's relaxing, it's stimulating, it's good for you!
If you have partners, erotic pleasure can be the 'glue and the lubricant' for long-term relationship satisfaction.
Buy now! Your libido will be so glad you're getting together with it again. And so will you and anyone you share your bed with!
Join Sheri for Libido: Lost & Found, a groundbreaking online class series on how to fire up your sexy spark.