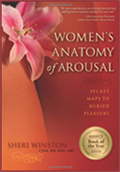 Women's Anatomy of Arousal:
Secret Maps to Buried Pleasure
by Sheri Winston, CNM, RN, BSN, LMT
AASECT 2010 BOOK OF THE YEAR!
(American Association of Sex Educators, Counselors and Therapists)
The clitoris is just the tip of the volcano. Women have a largely unknown network of structures responsible for arousal and orgasm that even most medical professionals don't know about. This leaves women trying to discover their sexual potential without accurate guides. Sheri Winston has put the missing pieces together, creating the first-ever accurate, integrated maps of women's anatomy and sexuality. This fun, sexy, empowering guide combines lost knowledge with ancient and modern sexuality information to illuminate every woman's secret paths to fabulous, orgasmically abundant sex.
The book is chock-full of information, illustrations, erotic art, games and exercises, hot tips for guys, a guided tour, wholistic sexualityTM, orgasmic abundance … and more, more, more!
Wondering What's in Women's Anatomy of Arousal?
Read a teaser!      Read a chapter … FREE!  or … check out the Table of Contents 
Click here to buy the paperback copy     Click here to buy the Kindle version   
Also available as an Audiobook Download or as a CD
"The most comprehensive, user-friendly, practical and uplifting book on women's sexuality I've ever read"  Dr. Christiane Northrup, author, Women's Bodies, Women's Wisdom

"I'm a sex educator and I can't believe all the information I learned from this book. Sheri Winston is a very talented genius."  Jaiya, author, Red-Hot Touch: A Head to Toe Handbook for Mind-Blowing Orgasms

"One-of-a-kind revolutionary new book … required reading for every woman (and her partner) with a desire to take her pleasure to the next level … and beyond!"  Patricia Taylor, Ph.D.—Author, Expanded Orgasm

"Winston … interesting, engaging and unique sex educator… you'll definitely learn something new. I know I did!"  Jamye Waxman, M.Ed.—Author, Getting Off: A Woman's Guide to Masturbation

"This easy-to-read, enlightening book is like a good novel, a good friend, a big sister and a knowledgeable, understanding lover rolled into one!"  Carlyle Jansen—Sex educator and founder, Good for Her

"Winston is an amazing, articulate, accessible teacher."  LaSara Firefox Allen, MPNLP—Creator of Gratitude Games and author, Sexy Witch

"Useful, intelligent sex education"  Richard Anton Diaz—Founder of Sexy Spirits

"Winston has a unique ability to convey information about anatomy and physiology in playful and accessible terms."  Mark A. Michaels and Patricia Johnson—authors of The Essence of Tantric Sexuality and Tantra for Erotic Empowerment
Buy the book for a lifetime of empowered sex and orgasmic abundance! You'll be glad you did!