The Joy of Squirting—How I Learned to Be a Juicy Goddess
Whether you call it squirting, gushing, or female ejaculation, it's a delicious form of hot wet pleasure. Releasing this fluid, also called amrita, the nectar of life, is truly an ecstatic experience. Here's how I learned to go from orgasmic to a gushing goddess—and you can, too.
Female What?
When I first heard about female ejaculation (FE), I was already working as a nurse-midwife and gynecology practitioner. I had never experienced it myself. At first, I thought it was made-up porn nonsense. But over the next few years, I had patients who reported what sounded like FE: profuse release of fluid with high-level arousal and/or orgasm. This is when I began to suspect that gushing was a real but rare experience.
She Gushed On Me!
In the mid 90's, I had an up-close personal experience of squirting with a female partner who was an ejaculator. She told me she had always 'gushed' with orgasm. The amount was profuse. I observed the fluid spurting out of her urethra. It did not smell like urine, wasn't yellow, and it tasted briny and tangy but not at all like pee. It didn't leave any stain on a white towel. When air-dried, the fragrance on the towel was quite pleasant.
As I'd been having orgasms for almost 30 years without such a response myself, I assumed it was something only a small number of women had the natural ability to do. I now 'believed' in FE, as an uncommon but natural ability.
Female Ejaculation Lessons?
My next shift in thinking came when I met a number of women who said that they had learned to squirt, commonly in their late 30's and 40's. This certainly got my interest! I started to believe that gushing might be a learnable skill.
I already knew that many sexual responses were based on skills that were learnable. I'd taught myself a variety of useful skills such as how to have assured orgasms, orgasms from intercourse, non-genital orgasms, and so on. Once I realized that female ejaculation was a skill that could be acquired, I figured that if these other women had learned to ejaculate, so could I. At that time, though, there were no books or classes on the topic, so I just kept asking questions when I had the opportunity while also expanding my orgasm skills and holding on to the vision that it was possible for me to experience squirting myself.
Squirting Is Possible and Learnable
Sure enough, now that I knew it was possible and learnable, and also had a foundation of orgasmic proficiency, it happened. After a delightful night of extensive stimulation and dozens of orgasms, I experienced my own dramatic gushing mega-orgasm. It was profuse, wildly expanded my already pretty wild orgasms, and had a component that felt deeply sacred and empowering. I was now a true believer. No question about it—squirting was a learnable skill!
Over the next few years, I became more proficient at having a wide spectrum of orgasms, including gushing ones. I was reinforced in my basic belief that if a person combined comfort and connection to their body, knowledge, skill and practice, they could learn to squirt.
Gushing Variety
The nature of my gushing varies quite a bit. I can produce vastly different amounts of fluid. With certain types of stimulation, especially if it's prolonged, I may gush buckets. If I'm not in a deep state of arousal, inadequately stimulated or dehydrated, I produce very little. Not all my orgasms include obvious gushing at all.
I'm certain that I'm not producing pee. When I gush, the fluid I produce smells remarkably like amniotic fluid, briny and fresh like seawater. When I was still in my cycling years, it would be sweeter around ovulation. While it does emerge from the urethral opening, it's not yellow and doesn't smell like urine. I've checked the pH and it isn't the same as urine.
Another consideration for me is that I can produce considerably more ejaculatory fluid than I can urine. When I pee, a finite amount of urine comes out. It takes some time before I can generate more. In a really prolonged orgasmic series of ejaculations, I can produce huge amounts of fluid. As long as I'm well hydrated, I can keep going. I measured the fluid once and found that I can expel about ½ cup with each series of gushes—and then keep going to have many additional series of gushes of similar amounts. I could never produce that much urine in such a short amount of time.
The Anatomy of Female Ejaculation
As I was developing my gushing abilities, I became intensely interested in the anatomy and physiology of the process. Since it was clear to me that it was not urine, diluted or otherwise, I wondered where the fluid came from. For a while, I found no plausible explanations for it. The scientific perspective seemed to be that it must be urine since there appeared to be no other place for a large amount of fluid to come from other than the bladder.
I did not (and do not) accept that theory. It was not congruent with my personal experience. I believed there must be another anatomically accurate and scientifically valid explanation.
Ejaculatory Eureka
My 'aha' insight into the possible mechanism of female ejaculation followed. You can hear about my 'Eureka' moment and find out where all that liquid comes from in my recorded online course The Learnable Art of Female Ejaculation. You can also get all of my subsequent learning about FE such as why we squirt and, of course, lots of tips and techniques for facilitating gushing goddess orgasms for yourself or your partners.
I have no doubt that many of the factors that contribute to the ability to squirt are learnable. These include getting to deep levels of arousal, orgasmic expansion skills, how to relax, release and expel, the mindset of permission, an accurate understanding of the relevant anatomy and specific manual stimulation skills. When women develop these skill sets, it increases the likelihood that they'll have sexual experiences that are deeply satisfying and orgasmic, whether you discover the ability to get super juicy or not. If women also develop the ability to have glorious gushing orgasms, all the better!
Orgasmic Options
In my teaching about sexuality, I always emphasize that there are a wide range of pleasure pathways and many ways to access deep wells of ecstatic experience. Female ejaculation is not required to have extraordinary pleasure or to be sexy or for any reason other than that it's a blissful way to expand the menu of orgasmic options.
Pouring forth amrita feels awesome, empowering and profoundly liberating. It taps into deep emotions and feelings of connectedness with yourself, your partners and the universe. It produces a sense of deep release and post-orgasmic relaxation. When you're gushing you feel like a goddess (or in the presence of one)—beautiful, gorgeous, and wild.
---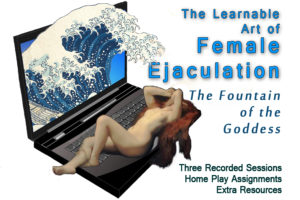 Go here for more information about the recorded online course The Learnable Art of Female Ejaculation. For all genders.
https://intimateartscenter.com/wp-content/uploads/2016/03/Utagawa-Kuniyoshi-waterfall-FI_V2.jpg
430
1500
Sheri Winston
https://intimateartscenter.com/wp-content/uploads/2016/09/IACLOGO.png
Sheri Winston
2016-03-31 16:06:33
2016-08-13 18:39:06
The Joy of Squirting: How I Learned to Be a Juicy Goddess