Why Learn to Squirt?
The Pleasures of Female Ejaculation!
Whenever I talk to a group of people about female ejaculation, someone invariably asks, "Why would I want to learn how to gush?"
It's a fair question. For a lot of people, squirting conjures images of mess—a flood at best, pee at worst. It makes sense to wonder, 'Why bother?' Or even to have a 'yuck' response. Who needs more laundry to do?
So let me tell you—it's worth it. Believe me, it's worth it!
Simply put, female ejaculating wildly expands the experience of orgasm. Each spurt of hot fluid brings a delicious and intense feeling of release. It's a form of ecstatic liberation. When it's happening, I feel like a goddess—powerful, ecstatic and beautiful. It's like you're connected to the universal life force and it's flowing through you.
It also has a deep emotional component for me. I feel like a fountain of love juice. "The fountain of the goddess," they call it—for a reason. This is only my experience, of course, but other female ejaculators describe gushing similarly.
It's also fabulous to be with a gushing goddess. In a recent class, my partner Carl was asked the benefits of being with a female ejaculator. His answer: "It tastes delicious, it's emotionally empowering, and it feels yummily squishy. It gives me immediate feedback that I'm giving my partner amazing pleasure. There's nothing better!"
In ancient India, this fluid was called amrita, the nectar of life. It was collected in sacred rituals and used as a blessing. I totally get that—amrita feels blessed to give and to receive!
Female ejaculation—it's a complete win-win!
It goes without saying that you can have fabulous sex and wonderful orgasms without gushing. As an enhancement, though, there's nothing quite like it. Female ejaculation feels amazing (sacredly amazing!). It taps into deep wells of emotion. It feels profound, like a delirious, wild, primal force that erupts and spills you into a state of blessed-out bliss.
If it leaves you with some extra laundry, that's a small price to pay for a 'fountain-load' of ecstasy.
---
To learn how to facilitate your hot wet pleasure, 'attend' my recorded online course The Learnable Art of Female Ejaculation.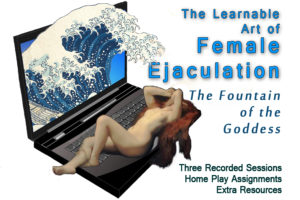 You get three class sessions, special yummy home play assignments, resources and more. For all genders!
---
https://intimateartscenter.com/wp-content/uploads/2016/06/Shakti-Shiva-Explosion-WPFI-V2.jpg
430
1500
Sheri Winston
https://intimateartscenter.com/wp-content/uploads/2016/09/IACLOGO.png
Sheri Winston
2016-03-25 17:23:26
2016-09-16 21:45:46
Why Learn to Squirt? The Pleasures of Female Ejaculation