Sign up and receive a FREE Sheri Winston course of your choosing.

(Value: $67.)

Limited-time offer.

Click here to learn more.
---
Do you take nutritional supplements? Do you buy other health-store offerings like protein powder, coconut oil, natural pet products, superfoods, skin and hair care products, and more? If so, please consider our online storefront Winston Wellbeing, the "cure for Amazon." You'll get:
A stupendous selection. Choose from over 300 brands and over 16,000 products.
Superb quality. Our marketplace partner Emerson Ecologics/Wellevate™ carefully screens their brand applicants and only chooses ones that meet their very high standards.
Great prices. Just by signing up, you get an automatic 20% all-day, every-day discount off the manufacturers' suggested retail price, along with free shipping above $49. Winston Wellbeing's prices typically beat Amazon's, in some cases by 50%! (Click here for sample comparisons.)
Ease of use. Shopping at Winston Wellbeing is a snap. Simply search, select, and see your 20% discount come off the price once you've gotten to the shopping cart. Set up automatic shipments so you don't have to order every month. Bookmark Winston Wellbeing and you're good to go!
Support our work. With every purchase, you'll be supporting the cause of pleasure-positivity.
Sign up now with no obligation (no credit card sought until you order). Do it now … do it here! We'll cancel your account if you decide not to proceed.
Support your health … be kind to your wallet … and get a FREE online course! Act now …
---
Our partner set up the registration process so you can't actually see the site till you've signed up. Here's a screenshot of what Winston Wellbeing looks like once you get past the gate. Click on the image for a more detailed view.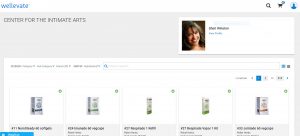 ---
IMPORTANT NOTES (PLEASE READ):
Our distribution partner does NOT ship overseas. If your mailing address is not in the United States, you won't be able to use Winston Wellbeing.
You must be 18 or older to purchase products.
You may not purchase for resale. Purchase must be for personal use only.
The items sold through Winston Wellbeing are widely available at retail and have been deemed safe for consumption. By purchasing products at Winston Wellbeing, you assume the risk of any and all negative health outcomes that may be associated with said purchase, and you agree not to seek financial or other compensation for said outcomes from the Intimate Arts Center, any successor organization(s), and/or its owners and/or employees. Intimate Arts Center expressly disclaims any and all legal liability for negative health outcomes from the use of products purchased at Winston Wellbeing.