Vaginal Vs. Clitoral Orgasm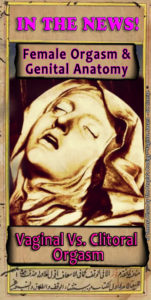 It's one hundred and ten years since Freud stirred up controversy with his theory that vaginal orgasms were the 'mature' way to come and that immature clitoral orgasms were for little girls and adolescents. It's hard to believe that we're still talking about it now—and that we're still in a very muddled dispute. But we are.
Vaginal Vs Clitoral Orgasm: In the News! Again.
Since it's about this century-old debate, I probably shouldn't be too surprised to see the extensive press coverage that's attended the publication of a scientific review of anatomy literature. The article in question is Anatomy of Sex: Revision of the New Anatomical Terms Used for the Clitoris and the Female Orgasm, by sexologists Vincenzo Puppo and Giulla Puppo, published in the forthcoming issue of Clinical Anatomy.
In today's blog, I'll focus on the vaginal vs. clitoral orgasm argument. The media frenzy is almost orgasmic (although not in a good way) as outlets variously applaud and decry the Puppos' conclusion that "vaginal orgasm does not exist." Unsurprisingly, women who don't experience orgasm from intercourse seem to be on board with these scientists, while women who do experience orgasms from intercourse are shaking their heads and mocking the distance between science and real life (and real bedrooms).
Lizzie Crocker is in the no-vaginal orgasm camp. In her Daily Beast article, The Truth About Female Orgasm, she writes, "Thanks to the two Puppos and their clarifying study, women can finally stop … differentiating between types of orgasms that don't exist. So … stop taunting us with claims of your intense, superior vaginal orgasms. It doesn't exist and it never happened."
I do understand where's she's coming from. From her words and tone, I conclude that she's one of the women who don't have orgasms from intercourse. I'm sorry if she feels 'taunted' by those who do. No one should suffer from orgasmic one-upmanship.
So, for Lizzie (presumably) and all the other women who feel orgasmically shamed, let me hasten to reassure them and impart a few important pieces of information that are missing from these heated discussions.
Let me start by making an important distinction. Most of the participants in this debate are equating 'vaginal orgasm' with an orgasm that results from penis-in-vagina intercourse without any added clitoral stimulation. These are not the same thing!
The Vaginal Vs. Clitoral Issue
To elaborate: Let's start with the vaginal vs clitoral issue. The terms 'clitoral orgasm' and 'vaginal orgasm' are really only referring to where the woman feels the orgasm most intensely. Most people can experience orgasms that have different focal points. While most orgasms are genitally focused, it's also possible to have ones that feel focused elsewhere, such as 'heart-gasms' or orgasms that are so expanded that they feel like the whole body is coming. Even within the genital region, orgasms can feel more centered in one part or another, accounting for orgasms that feel more clitoral, vaginal, uterine or anal (or in men, penile, prostate or anally-focused). The Puppos seem to think that "the few women who report 'vaginal orgasms'" are deluded by the sexologists and the media. As if women don't know their own bodies well enough to feel where their orgasm feels centered! If you are in tune with your own body, you'll be able to distinguish which parts of you are pulsing and palpitating. There is a wide (and normal) range of embodied orgasmic experiences.
Why do we tend to feel orgasms in different areas of the genitals? In part, this has to do with which of the major sexual nerve pathways get more stimulated. More stimulation of the external structures tends to create orgasms that feel more clitoral. More internal stimulation tends to lead to a more internal (i.e., vaginal, uterine or anal) orgasmic experience. Stimulate all the nerve pathways and you get 'blended' orgasms that tend to feel especially intense.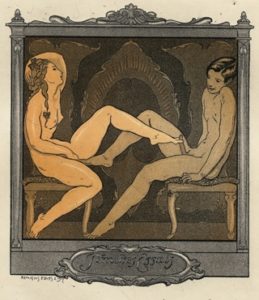 Now to address the separate but related issue about the various types of stimulation that can induce women to have orgasms. The Puppos basically say is impossible for women to achieve orgasms through penis-in-vagina intercourse without any additional direct clitoral stimulation. They say, "In all women, orgasm is always possible if … during vaginal/anal intercourse the clitoris is simply stimulated with a finger." Rebecca Adams, writing "The G-Spot And 'Vaginal Orgasm' Are Myths, According To New Clinical Review" in The Huffington Post, seems to agree, quoting the Puppos: "Every woman has the capacity to orgasm if her clitoris is stimulated."
There's nothing wrong with clitorally-stimulated orgasms. If that's the only kind of orgasms you have, you're not broken nor are your orgasms 'immature.' Any way that you come from any type of stimulation is just fine and dandy! If you aren't orgasmic in response to penetration, you're not alone—over half of women don't have orgasms with intercourse or without direct clitoral stimulation. It's totally common and completely normal.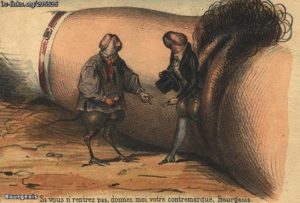 The most important thing I'd like everyone to know is that women can learn to become orgasmic from a wide variety of stimuli (including with intercourse). Got it? People can learn to become aroused and have all kinds of orgasms from many different types of actions and activities.
While direct genital stimulation is usually an important component of sexual arousal, people can get turned on and orgasmic from stimulation of other body parts or without any direct physical stimulation at all. Extra-genital arousal and orgasms are most likely to happen when sensitive erogenous zones are pleasured such as your nipple, the back of your neck or your mouth (kissing!)
The Puppos state, "Orgasms with a finger in the vagina are possible in all women, but the partner must also move the hand in a circle to stimulate all the female erectile organs." This would certainly create a limited repertoire for attaining orgasms! In fact, we now have documentation via the MRI studies of hands-off female orgasm done by Komisaruk, Whipple, et al at their lab at Rutgers University that some women are capable of having orgasms by 'thinking off' with no clitoral, vaginal or genital stimulation whatsoever.
One thing the Puppos do have right is that women have a number of erectile structures. Unfortunately, they don't acknowledge them all nor do they seem to understand how they work together. Understanding these erectile structures is one of the keys to increasing the incidence, intensity and frequency of female orgasm. It's great for the vulva owners to know this, and their partners too.
The Female Erectile Network: A Revolutionary Map of Buried Pleasure
As I noted in So Is there Or Is There Not A G-Spot?, women have what I call the Female Erectile Network, or FEN*. It's a set of separate but interconnected structures made of erectile tissue—the very same tissue that enables penises to go from small and soft to big and hard. Women have just as much erectile tissue as men, it's just arranged differently. Some of these pleasure parts are well known while others are almost unheard of (even by scientists, medical practitioners and sexologists).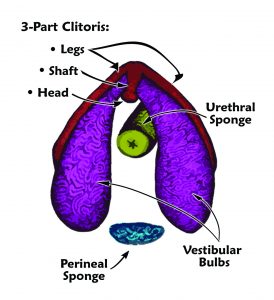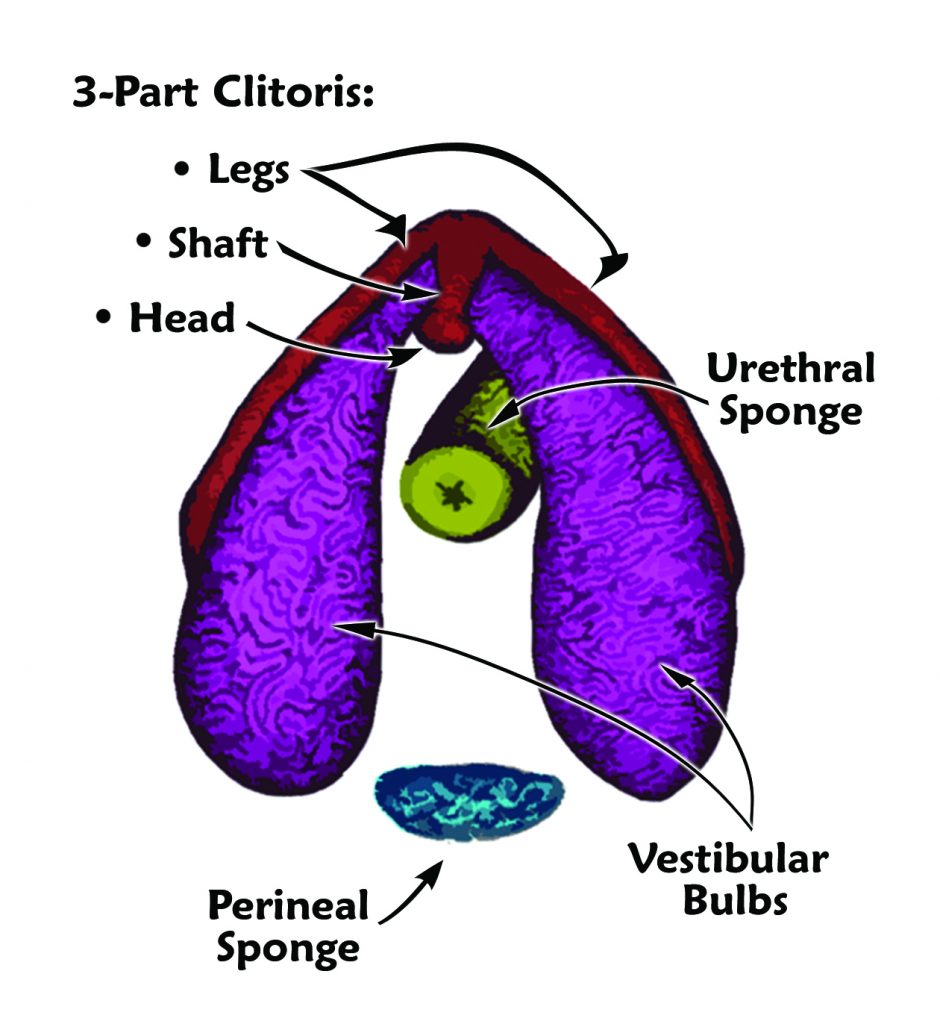 Starting with the familiar, the FEN includes the super-sensitive 'jewel in the crown' —the head of the clitoris. (That's what most people are referring to when they say 'clitoris.') It's a unique and remarkable structure and merits lots of attention. The clitoral head is the main and usually easiest orgasmic trigger for most women. It is not, however, the only path to female sexual pleasure. The female erectile network also includes the two other parts of the clitoris: the shaft (under the hood) and the 3-4 inch-long paired legs. In addition to the clitoral structures, the FEN includes the paired vestibular bulbs that bracket the vaginal opening, plus two additional structures—the urethral and perineal sponges. The urethral sponge is a cylinder of erectile tissue that surrounds the tube of the urethra. The perineal sponge rests under the vaginal floor, in the wall between the vaginal and anal canals. All of these structures are composed of engorgeable erectile tissue.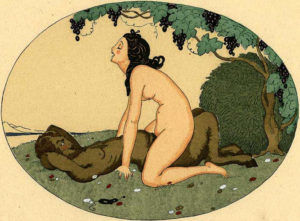 One key to making intercourse highly pleasurable and much more likely to be orgasmic for the woman is to make sure that the whole circuit of erectile tissue is fully engorged prior to penetration. Other keys include making sure that the woman is in deep, high-level arousal prior to penetration; using our additional inner 'sexcraft tools' (such as breathing, sound, movement, awareness and imagination, to name just a few†) to increase stimulation; having one or more orgasms prior to intercourse; and, during intercourse, using more pelvis-connected movements such as rocking or grinding rather than a penis thrusting in-and-out motion.
Orgasmic Learning: The Real Sex Ed
For women, orgasm skills are learnable. Some women haven't yet learned how to have any kind of orgasm. There's nothing wrong with you if that's your situation—there are just skills you haven't learned yet. Step one is discovering your easiest path to orgasm, which usually involves self-pleasuring and clitoral stimulation. Once women develop orgasmic proficiency, they can go on to learn orgasmic mastery, where you develop many paths through arousal, expand the ways you can get off and discover the wide realm of orgasmic possibilities.
Most women who have penis-in-vagina intercourse-only orgasms have learned how to get there. For those women who haven't had penis-penetration-induced climaxes, you can develop the skills that will allow you that experience.
If you want to. You don't have to. It's an orgasmic option.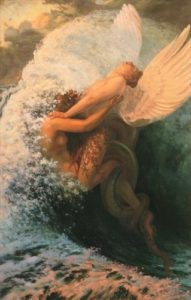 There is no right way to have orgasms. There is no better way. Nor is there a Freudian 'mature' way to come. But there are different orgasmic experiences. Clitorally or vaginally-stimulated ones, anally stimulated ones, orgasms in your dreams, hands-on ones, hands-off orgasms, whole-body ones. Orgasms from humping a pillow, from penetration of your vagina, your anus, your mouth or your mind. It's all learnable! You can learn to expand your orgasmic range.
Celebrate All Orgasms
Please don't let any reporters, scientists, partners (or anyone, for that matter!) tell you that your experiences aren't real, that you're not normal, or that the way you get off is wrong. If people with paraplegia can learn to have orgasms by having their mouth or fingers stimulated (and they can and have), then let's stop limiting and shaming anyone's experience and learn to celebrate orgasms in any way, shape or body part that helps us have them.
Having great sex is a learning journey. One part of that journey is learning to have orgasms. And, if you choose, learning how to use your many parts and multiple skills to have stupendous ones.
---
Want to Know More?
For more details about the different structures, take a look at this post: The Missing Female Pleasure Parts
For more information on what's been misunderstood and neglected, here's another post: Lost Sexy Bits. (It includes a quickie home play assignment.)
For a few orgasmic pointers, I invite you to download a free Orgasmic Abundance e-book.
---
Save
https://intimateartscenter.com/wp-content/uploads/2014/10/Bourgery-female-Anatomy-FI.jpg
430
1500
Sheri Winston
https://intimateartscenter.com/wp-content/uploads/2016/09/IACLOGO.png
Sheri Winston
2014-10-21 06:14:23
2017-06-20 17:10:56
Vaginal Vs. Clitoral Orgasm