Hi, Sheri Winston here. Ms. Orgasm, as they dubbed me on Strange Sex.
To clarify: I never claimed to have had 15,000 orgasms in my lifetime or 'with the power of my mind'. They made that up. Nor did I say that my record for non-genital orgasms was five in a day. That's just silly. And, seriously, who's counting? (Though if I was, the number would be considerably  higher!) I guess the folks at Strange Sex felt they needed to add this as part of their branding script, but it had nothing to do with me. In fact, adding such meaningless invented statistics betrays a serious lack of understanding of what orgasms are all about—both genital and non-genital. People's orgasmic potential is virtually unlimited: an orgasm can last an hour or more, and people can have dozens or even hundreds of orgasms in a day. Orgasms can be the result of direct genital stimulation, non-genital play or completely hands-off responses. There's an enormous and varied realm of orgasmic experiences.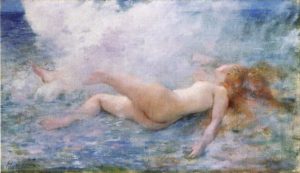 It is true that I've had an amazing abundance of orgasms in my life. But it's not that I was blessed by the orgasm fairy at birth or have really, really great sex karma. These are all things that I learned to do. And the point isn't even really what abilities I've cultivated. The important point is that anyone who wants to can learn these skills as well.
I consented to appear on Strange Sex not because I took any particular pleasure in exhibiting my orgasmic capabilities to the world (despite the evidence, I'm actually a pretty private person!), but because it's part of my mission as a sex teacher to let people know that they have extraordinary erotic potential, far more than most people imagine.
I've learned to develop my spectacular orgasmic abilities through decades of practice. By that, I mean both through personal sexual practice, as well as in my professional practice. OK, get a grip, I don't mean as a sex worker—I mean as a nurse-midwife and childbirth educator for over two decades and then as a sex teacher for more than a dozen years. It may surprise you to learn that all the skills that help women have wonderful births are the same as those that lead to spectacular sex. But it's true! That's how I got my start in learning to expand my erotic abilities—teaching women how to use their mind, body, heart and spirit to maximize their chances of having a natural, empowering and even ecstatic birth.
Here's the key point, though. Anyone who wants to can expand their ability to get intensely aroused, have awesome orgasms and develop erotic mastery. You see, for us humans, sex is both natural and learned. Yes, we learn sex! It's just like learning to play an instrument or speak another language—a set of complex intertwined skills that build on a natural inherent framework. Except that it's easier to find someone to teach you piano or take French classes than it is to find someone to teach you how to have amazing connection with your own sexual energy (and with others, if you choose).
While the TLC show focused on non-genital orgasms, that's just a small piece of what it's possible to learn to experience. Even in the non-genital orgasm category, there are a variety of learnable experiences, including hands-off orgasms (sometimes referred to as 'thinking off') as well as orgasms through stimulation of non-genital body parts. In fact, some people who are para- or quadriplegics have learned to have orgasms from stimulation of their fingers or mouth—a testament to the plasticity of the human brain and the ability to learn.
If you doubt this, I have a question for you. Have you ever had an orgasm in your dreams? If so, you've had a non-genital orgasm!
As for whether I'm faking it or not, I have two responses. If you're looking for data, check out the experiments being done at Rutgers University by Whipple, Komisaruk and Wise, using an MRI to document the ability to 'think off' and demonstrating that in terms of physiological response, it's no different than the traditional genitally stimulated orgasm.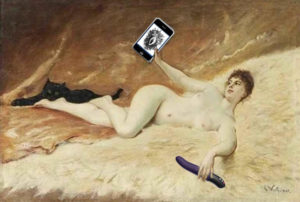 My second response though, may be more to the point. You don't need to believe me. In fact, I urge you to be skeptical of all official experts, including me. Become your own expert. Check it out for yourself. If you really want to know what's possible, experiment with various techniques, play and practice, and discover your own abilities. Find the way to connect with and expand your own pleasure pathways. Discover for yourself how to expand your turn-on and amp up your orgasmic abilities.
You can learn how to respond to a wider range of stimuli, to have extended orgasms or non-genital orgasms. You can go for total erotic virtuosity. Or not. It's up to you. For most people, non-genital orgasms are an advanced skill that will take years of practice, although there are always those who are very quick learners!
Please do remember though, there's no right or wrong way. There's only what works for you. It's not a competitive sport or more things on your overcrowded to-do list. It's play. Sexy, sacred, awesome, ecstatic, sweaty, sweet play. Whatever you do, focus on the pleasure and whatever enhances the connection to yourself and your partners. And, some day you may surprise yourself, when without direct genital play, your sexual energy explodes in a wild and wonderful way. Then you'll know that all sorts of orgasm are possible and you can have what I'm having.
---
Learn how here:
Succulent SexCraft Online Course
Four Wednesdays: September 28, October 5, 12, 19. 8 pm ET
Get all the fundamentals of SexCraft and learn to develop mastery of your erotic experience.
This is the FOUNDATION for everything else Sheri teaches. All her other classes, all her books, all her teaching starts with this: Learning to play your own 'instrument' and developing mastery of your own erotic abilities.
Amplify your PLEASURE. Expand your AROUSAL. Magnify your ORGASMS!
---
https://intimateartscenter.com/wp-content/uploads/2012/08/Fireworks-FI.png
430
1500
Sheri Winston
https://intimateartscenter.com/wp-content/uploads/2016/09/IACLOGO.png
Sheri Winston
2012-08-09 14:57:32
2016-09-18 18:02:42
Ms. Orgasm Responds