The Love Song of Shakti and Shiva
In the beginning was the One. The One was all and everything, and for eons it reveled in being One, millennia of magnificent unitary bliss. Over the course of unimaginable time, however, the One grew bored. (Even the Divine gets bored with itself eventually.)
So the One split into two. One part was Shakti — she of energy, flow, and movement. The other was Shiva — he of consciousness, presence, and purpose.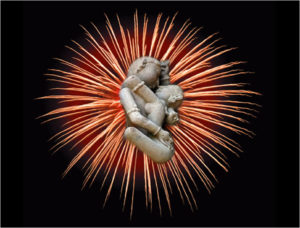 As soon as the one became two, they gazed upon each other, fell madly in love, and wanted nothing more than to re-unite. They clasped each other passionately and explored all the ways two could merge into one. They entered each other and dissolved the boundaries between them. For millennia they made love, exquisite erotic love. At long last they again achieved oneness as they exploded in mutual simultaneous orgasm. In that moment, the entire universe was born. All life sprang into being and is springing still. It was the original big bang!
Cosmic Connection
The story of Shakti and Shiva is an origin story about the universe, and a story about each and every one of us. Like them, we long for connection, are magnetized by attraction, and drawn by the desire to merge into oneness. Like them, passion is what connects us to all life, and desire is our path to divine union.
Sex — The Essential Life Force
The saga of Shakti and Shiva reminds us that ecstasy is our birthright and the source of all existence. It also tells us that sex is more than our individual desires, erotic experiences, intimate connections, and sexual behavior. It is the deepest expression of the power of creation. The mating drive is one of the most powerful forces in our world: it has to be or we wouldn't be here, gloriously alive amid the wondrous diversity and complexity of existence. Asexual reproduction was a great starter plan for Earth, but it takes the desire to mate and mingle genes to birth the unimaginable and wondrous biodiversity of our world. That's the foundational energy of sex: Sex is the most basic urge to merge.
Your Luscious Life Force
Your individual sexuality is your small piece of that primal power — the vital, pulsing life force. Your sexuality connects to that cosmic energy: they are one and the same thing, only on the micro and macro levels.
How you relate to that immense power has a pervasive impact on your life. You can repress your sexuality. (Or try to, it can't be stopped) You can go "repression light" and downplay it. Or, you can take the other road and … celebrate it! Your sexuality can take you on a sacred ecstatic path that unites you profoundly to all life throughout time.
At the end of the day, the choice is yours. You can learn to fully and consciously open the inner portal to your sexual life force, and in so doing gain access to divine bliss and link to your uninhibited wild power. That exquisite connection to the cosmos —the erotic cosmos — resides inside you, right there in your sexy center. The choice is yours!
---
Did you enjoy that taste of Sheri's award-winning book: Women's Anatomy of Arousal: Secret Maps to Buried Pleasure? Find out why so many readers rave about the book and say things like this:
As a middle-aged, plus-sized, average woman married 25 years who had never experienced a climax, to stumble upon this book has been an incredible blessing, to say the least. After reading it aloud to my husband on our road trip to the beach, we found freedom, healing, and other pleasures unknown to me before including (my first as well as) several orgasms. My husband also mentioned several times how helpful, detailed, and encouraging the book was for him.
We are both so encouraged!

Cindy Harvey, Amazon reviewer
Check it out!
---
https://intimateartscenter.com/wp-content/uploads/2016/07/Siva-and-Parvati.jpg
430
1500
Sheri Winston
https://intimateartscenter.com/wp-content/uploads/2016/09/IACLOGO.png
Sheri Winston
2016-07-15 17:48:05
2016-07-20 13:56:13
The Love Song of Shakti and Shiva