Getting coconut oil onto your vulva is easy, but getting it where you need it most—deep inside your vagina—can be tricky. Luckily it's easy to make suppositories or use applicators to help!
Lubricate and Moisturize
Lubricants make things slide and stay on the surface of your tissues. They're wonderful for sex. They reduce friction and prevent irritation. Just as importantly, lubricants increase sensation and pleasure. While the vagina does produce its own lubrication, some women are just naturally less moist then others. Sexual arousal increases the production of natural vaginal juice, although when and how much can vary. At certain times of life, such as after menopause or after having a baby, there may be little lubrication no matter how aroused you are. I believe additional lubrication is always good since when it comes to erotic play, slipperier is better.
Moisturizers are absorbed into your tissues, improving tone, elasticity and resilience. They are particularly useful if your natural lubricating abilities are decreased such as during post-menopause, with certain medications and forms of birth control, and post-partum. If you're going for healing your vagina, use coconut oil or other natural vaginal moisturizing products multiple times every day. Think of it as feeding your vaginal mucosa (the moist inner lining of the canal) and apply three times a day.
Vaginal Dryness
For those times in life when your vagina is dry, using additional lubricant can make the difference between pain and pleasure.
You may want to check out my Lube Rules blog post for lots more lube info.
Natural Plant-Based Oils
You can use any natural plant-based oil topically as a sexual lubricant. I highly recommend using organic products.
My favorite is coconut oil, which is a natural plant oil. It smells and tastes somewhere between barely-there and delicious. I also love coconut oil because it acts as both a lubricant and a moisturizer!
Other nice body-friendly and yummy oils include almond oil, jojoba oil, sesame oil and apricot kernel oil.
Plant-oils are NOT latex-compatible. DO NOT USE WITH LATEX PRODUCTS SUCH AS LATEX CONDOMS!
Coconut Oil
I like to use it straight. Just dip some out of the jar and slather it on.
Regular coconut oil is solid when cool and a liquid when warm. When it's in its solid form, it melts deliciously at body temperature. If you want it to stay liquid at all temperatures, all the time, use fractionated coconut oil. Virgin coconut oil has a stronger coconut scent.
Coconut oil is also good for vaginas as it's mildly anti-fungal and anti-bacterial (but only against the 'bad' bacteria and not the 'good' ones that live in a healthy vaginal ecosystem). (See Vaginal Ecology posts for more info,)
Getting In When You're Getting Down
Slathering the outer parts of your genitals and using oil on anything that's going inside is good! By using your fingers, you can get a little bit of oil inside the vagina, but not much and not far inside. So what are you going to do when the inner parts of your vagina need some extra luscious lubrication?
Make Coconut Oil Suppositories
To make: Start with warm liquid coconut oil. If you're adding other oils, mix them in.
Pour the oil into ice cube trays, filling each compartment about ½ way. (Or about 1/2 inch deep) Or use a small glass square or rectangular baking dish.
Put the tray in the refrigerator. Cool until just firm. Take it out and slice each cube of coconut oil into 2 or 3 sticks, about the size of your pinkie. (About 1½ inches long)
Put it back in the fridge and leave it there until it's very solid.
Remove the suppositories from the tray. You now have coconut oil vaginal suppositories. Yay!
Put them in a jar or container and store in the refrigerator.
To use: Unless it's roasting hot out, the suppository will stay solid for a while at room temperature, so grab a few on your way to your sex place and leave them handy so you can use as needed. When you're ready to be lubed up internally, take one and insert it deep into your vagina.
Besides using these for sex, you can also use them to help with general vaginal dryness issues. If you're using them that way, insert one before going to bed.
Power Pack Your Suppositories
For additional healing, add any of these oils or a combination: Wheat germ oil, Vitamin E, evening primrose, borage, black current seed, comfrey, calendula, plantain, red clover.
These oils will stay liquid even when cold, so if you add too much of them, your suppositories won't get hard. So either just add a little of these oils or make a salve.
It's easy to make a salve: Just warm all your oils and mix. Then add a few tiny bits of melted pure beeswax or cocoa butter to your oil prior to making it hard.
The Easy Way
A favorite herbal company, Avena Botanicals makes this Vaginal Dryness Oil, which is an easy short-cut to add to your suppositories. (They also make a lovely Yoni Creme that makes for great lubricant and can be used daily as a soothing vulvar topical.)
Use an Applicator
If you don't want to make suppositories, here's another option for getting creams, salves and liquids into the vagina—use an applicator.
The plastic applicators that come with many vaginal cream products will work with any cream or salve. Clean your applicator with soap and water after use and it will last forever.
You can also use a large syringe (Not the needle — just the barrel). You can buy these marketed as lube applicators at many sexuality product stores. They come with applicator nozzles and are usually marketed as anal lubricators. They work fine for getting lube in your anus as well, but since anal bacteria should never be in your vagina, I recommend not using the same applicator for your butt and your vagina, even if you do clean them well, as of course you should.
It's Worth It
Take a little time to make suppositories or get an applicator and you'll be glad you did. Getting the lube deep inside and coating the inner walls of your vagina will make for a very happy vagina-owner. (And, if you have visitors, they'll be happy, too.) You'll be slippin' and slidin', satisfied and slathered!
---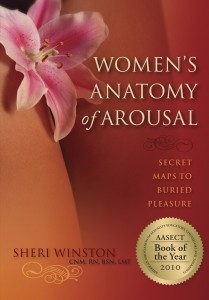 Want more info on vaginas and related parts? Check out my award-winning book, Women's Anatomy of Arousal and/or the online course by the same name, Women's Anatomy of Arousal Online Course to learn about all things vagina!
Save
https://intimateartscenter.com/wp-content/uploads/2016/05/WP_Juicy-Coconuts.jpg
576
1038
Sheri Winston
https://intimateartscenter.com/wp-content/uploads/2016/09/IACLOGO.png
Sheri Winston
2016-05-21 18:20:57
2017-08-31 13:25:36
Coconut Oil: Getting It In When You're Getting It On!