Q: Are you Familiar with the A-spot? I am re-reading your awesome book 'woman's anatomy of arousal' and was curious to know if you have heard of the A-spot? From what I can tell is that there hasn't been much research done on this area.
– Christina from ConfidentLovers.com

A: Hi Christina,
Thanks for your great question. It seems that leopards have taken over vaginas because there are so many spots! I have to admit, though, I'm not a big fan of the 'spot' meme in general, so I don't use the term A-Spot. (or pretty much any other specific 'spot'.) There are no actual anatomical spots.
Where's the A-Spot
What I believe people are referring to when they use the term A-spot are the areas in front of the cervix where nerve plexuses emerge. "A" refers to the spot that's anterior to the cervix. It's in the fornix (or fold) in front of the cervix.
Sweet Nerve Bundles
A plexus is a bundle of intertwined nerves, like a tree trunk with roots and branches. Like all spinal nerves, they come in pairs. Any place that is richly innervated provides great pleasure potential, so all of the plexuses are wonderful sweet 'spots' for sexual stimulation.
There are a variety of places where vaginal nerve plexuses are located. There are the ones you're asking about, in front of the cervix, as well as plexuses behind it and on the posterior vaginal wall.
A Wise Variety of Variations
One of the interesting things about anatomy is that while many things are very consistent from person to person (like bones or muscles), nerve patterns are quite variable. This is why every vagina owner (and visitor), needs to map out the location of their individual sweet spots. While every vagina will have nerve bundles that are in the anterior cervical fornix (that's the fold in front of the cervix) the exact location can be more forward or back, closer together or wider apart.
Why This Wiring
I always like to understand not only how we're wired but why we connected that way. Here's what I think is going on with the cervical nerve plexuses. Part of the arousal process for women involves the uterus getting pulled up and forward. (I cover this in much more detail in my Women's Anatomy of Arousal book or online course.) As the uterus is pulled up, it would naturally stretch and therefore stimulate the nerves adjacent to the cervix. This is why they're wired to be pleasurable areas to excite and why stimulating them will help with things like increasing arousal and vaginal lubrication.
Erotic Mapping Expeditions
Have fun doing highly personal pleasure research to map out your (or your lovers') sweet spots. I highly recommend exploring and finding all of the especially pleasurable areas inside and outside the vagina including all the wonderful erogenous erectile tissue and all of the nerve plexuses.
Happy hunting!
---
---
The Spanish Translation fundraising campaign is LIVE!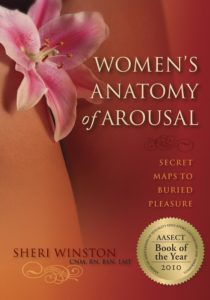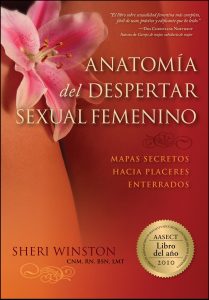 Women's Anatomy of Arousal provides the life-changing and integral map that all women (and their partners) need.
Now, we want to get this information into the hands of the multitude of people who speak Spanish. Please help us fund this important translation!
Ways You Can Help
This is an ALL OR NOTHING campaign. Which means if we don't raise our goal, we don't receive any funds. So please do one (or both) of the following if you wish us to succeed!
1) BACK THE PROJECT at whatever level you can. EVERY contribution counts!
2) SPREAD THE WORD!
Please help make the campaign a success and be a part of the team that gets this vital information out into the Spanish-speaking world!
---
Want to learn more about women's astounding, engorgable and delightful erotic equipment?
Find out why Dr. Christiane Northrup has called Women's Anatomy of Arousal "the most comprehensive, user-friendly, practical and uplifting book on women's sexuality I've ever read. It's the gold standard!"
Get More Women's Anatomy of Arousal!
WINNER, 2010 BOOK OF THE YEAR AWARD!
(From The American Assoc of Sex Educators, Counselors & Therapists)
Save
Save
Save
Save
Save
Save
https://intimateartscenter.com/wp-content/uploads/2016/12/lightning-nerve.jpg
430
1500
Sheri Winston
http://intimateartscenter.com/wp-content/uploads/2016/09/IACLOGO.png
Sheri Winston
2016-12-20 14:40:19
2017-05-01 14:52:11
Vaginal Sweet Spots