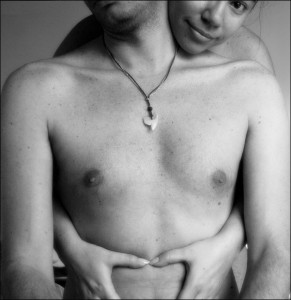 The following is an excerpt from Succulent SexCraft: Your Hands-On Guide to Erotic Play and Practice.
THE PRIME DIRECTIVE: SEX IS ABOUT CONNECTION
1. Your sexuality is first and foremost about your connection to your self. Your whole self.
2. Your sexuality is also about your connection to others. Naturally that includes the people you have sex with—partner sex is fundamentally about connection. And it's also about your connection to everyone and everything, including all life on this planet.
3. Sex is both natural and learned. While an important part of our sexuality is based on our inborn animal templates, an astounding amount of human sexuality is learned.
4. To fulfill your sexual potential, it helps to have structure, support and guidance — and, more specifically, accurate and effective maps and models. Anything short of that is like trying to find a special spot in the woods without a map (or with one that's just plain wrong).
---
Connections your sexuality is connected to everyone and everything. Here are aspects of the web of life that surrounds and supports you, and that co-created you:
YOU
• Hardware: nature, evolution, genetics
• Software: learning, environment, culture
• mind, body, heart and spirit
• energy and matter
EVERYTHING ELSE
Families
• your family of origin (the place where nature and nurture overlap and sometimes collide)
• your families of choice (the people you choose to create family with)
• your families of creation (your kids, if you have them)
Partners
• including any people with whom you are or have been intimate, sexual, and/or romantic
• current partners
• past partners
• fantasy partners
• potential partners
Communities
• friends, acquaintances, and all other communities and connections
• where you live
• political institutions, spiritual, religious and other institutions
• other institutions
• the media
• your work
• all living beings
• the world
• the ALL… The mysteries (leaving room for all of the energies and influences that we don't know or understand)
https://intimateartscenter.com/wp-content/uploads/2014/09/193853038_bc19cfb4a2_b.jpg
1024
995
Carl
https://intimateartscenter.com/wp-content/uploads/2016/09/IACLOGO.png
Carl
2014-09-15 17:00:00
2015-06-12 16:43:12
This is the Prime Directive of Sex