I spend a lot of time thinking and writing about sex, particularly from my integral holistic perspective. I'm always trying to make my paradigm more clear, understandable and elegant. Here's my latest version of what Wholistic Sexuality is. If you want to read the longer version, it's is in the library.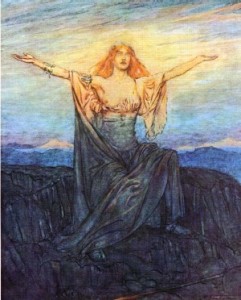 Wholistic Sexuality is about connection. First and foremost, your sexuality is about your connection with your Self — that's your primary relationship.
Your Self includes all of you: body, mind, heart and spirit, past, present and future, genetics and environment — everything that makes you uniquely and completely you.
Your sexuality is about who you are, not who you do (or don't) have sex with.Whatever you do or don't do — you are a sexual being. Your sexuality is an inherent, inseparable and vital aspect of you.
Wholistic Sexuality is about seeing the connection of all life. Your sexuality connects you to everyone and everything. Your fundamental relationship to your self forms the foundation of all your other relationships. Like a hologram, your sexuality is a microcosm that reflects and manifests everything from the personal to the planetary.
Sex is one of the most powerful forces on the planet — it makes life! When you understand and respect that power you can channel it appropriately and responsibly, allowing you to connect with your ecstatic energy and its transformative potential.
Wholistic Sexuality sees sex as something you learn, including your erotic capacities, abilities and responses. Like learning to play an instrument to make beautiful music, you can learn how to play your 'instrument' to become an erotic virtuoso.
Bliss is your birthright. You were born with the natural capacity for extraordinary pleasure, abundant joy, and deep connection. Wholistic Sexuality is the map, the lessons and the guide to discovering, expanding and claiming your full sexual power.
Wholistic Sexuality offers a vision of sex where it is normal, natural and inherently good, where we honor the miracle of life and revere the energy of Eros. When we respect the power of sex and learn to navigate its awesome energy everyone can connect with the sacred gift of ecstasy.
https://intimateartscenter.com/wp-content/uploads/2012/05/mountain-pose-FI.jpg
430
1500
Sheri Winston
https://intimateartscenter.com/wp-content/uploads/2016/09/IACLOGO.png
Sheri Winston
2012-05-02 21:10:05
2016-09-17 12:49:05
An Overview of the Integral Model of Wholistic Sexuality™