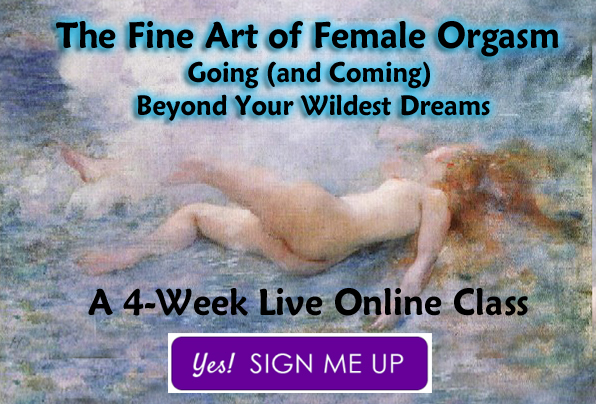 Online Class Series:
The LIVE class is over but keep an eye out for the recorded version!

Location: Wherever You Are!
( Get the Recordings)

Cost: to be determined
(includes lecture, discussion, videos, chat, hand-outs and Q&A)
Yummy Extras: Unlimited access to the full series forever
PLUS free forever access to Sheri's pre-recorded class 'Her-gasmic' Abundance ($24.95 value)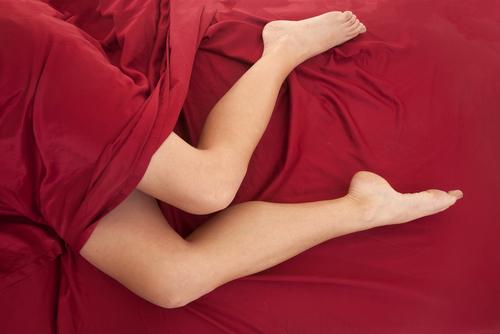 Sex is good. Orgasms are better. Lots of orgasms—PRICELESS!
Women, did you know that orgasmic capacity is a learnable skill? That's right—it's something you can practice and get better at. You need to study with a skilled, knowledgeable coach and guide, though—and Sheri Winston is as good as they get.
Men, would you like to have the SPECIAL KNOWLEDGE that will take your female partners into a vast ocean of orgasmic bliss?
During her two decades-plus of hands-in study as a certified nurse-midwife, Sheri Winston amassed the expertise that made her one of the world's foremost experts on female anatomy and sexuality. Her award-winning book, Women's Anatomy of Arousal, for years has been a best-seller on Amazon and regularly receives raves for its breakthrough information about the pathways to female pleasure.
Sheri has taught thousands of women how to have amazingly orgasmic sex—and she can teach you, too.

If you're not orgasmic, you can become orgasmic.
If you're already orgasmic, you can become more orgasmic.
If you're very orgasmic, you can become so orgasmic that, when you're finally finished, you feel 'cumatose.'
Orgasms that go on five minutes, ten minutes, a half hour, more. THIS CAN BE YOU.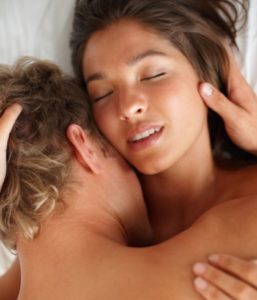 "Until your demonstration of the three-breath orgasm, I had no idea it was possible to have one with no physical contact, let alone no genital contact. I went home after your workshop, and a friend came over and … took out some organic chocolate … he gave me a spoonful, then another, and another. On the fourth spoonful, I had an orgasm! Just standing there by him with the chocolate dissolving in my mouth. Fully dressed, no physical contact. Full body big O that had me flushed, panting, shuddering wildly. After that, he held my hands and I had orgasm after orgasm for another two hours. Only holding hands! Talk about safe sex. So, all I can say about your teaching is, wOw!!! Talk about quick results and high impact!!" ("Nancy," student, Toronto, Ontario)
"Not to put too fine a point on it: Holy. Cow. Sheri's method works … think the difference between winning a spider ring at skee ball and winning the slots jackpot in Monte Carlo. It's like opening a door in your house and discovering a set of rooms you never knew you had. I'm so glad I didn't think I knew it all." (Liz Langley, writer, Tampa, FL)
"I just want to thank you from the bottom of my … er, heart for the best, most important class I have ever taken. My husband would also probably like to thank you for what he called the best sex he ever had." (Mary P., NJ, workshop attendee)
Women, how much is a lifetime of orgasmic pleasure worth to you?
Men, what would you pay for the special know-how that will have women, or that one special woman, clamoring for dates with you?
Does $99 sound like a reasonable amount to pay? Because that's all this four-week online class series with Sheri Winston costs. That's right, only $99!
Here's what you'll get for your investment:
Four fun, fascinating, life-transforming 75-90 minute classes, including Q&A sessions (get your own questions answered and learn from others' questions!)
Unlimited access to the recorded version of all four sessions (in case you miss a session or want to enjoy them at your leisure).
'Chat' access to your classmates and to Sheri to further explore the material.
FREE access to Sheri's great recorded online class, Her-gasmic Abundance (a $24.95 value!).
A lifetime of more pleasure!
YES, YES, OH MY GOD YES! I WANT TO HAVE WHAT SHERI'S HAVING!
What We'll Cover
Week One: We'll examine the nature of arousal and orgasm, female sexuality and sexual anatomy, the relationship between excitement and relaxation, and more.
Week Two: Our focus will be on 'sexcraft' skills (the subject of Sheri's Succulent SexCraft). We'll look at how we can use our mind, body, heart and spirit skills to enhance our arousal trance, have orgasms (or more orgasms), and expand our orgasmic capacity.
Week Three: We'll look at how to overcome blocks and inhibitions. Some of the challenges we'll discuss are trauma, performance anxiety, sex-negative training, and shame. These can all be overcome! In this session, we'll learn how.
Week Four: We'll focus on having more: more orgasms, bigger/longer orgasms, multiple orgasms, 'mega-gasms,' non-genital and 'hands-off' ones. The information covered in this class will be useful regardless of your level of orgasmic proficiency.
Every Week: During every class, you'll have plenty of time to get your specific questions answered.
Whatever your orgasmic ability, this series will pump it up! For women and anyone who loves to love women (really well!).
Problems Solved!
For years, we've been receiving e-mails from people who'd love to attend an online class, but can't.
"Your class is in New York City and I live in Atlanta."
"Your class is on Friday and I have a prior commitment on that date."
"I'm shy about attending a live class."
Now we can do it on the Internet! It's like waving a magic wand—presto, all those problems go away!
You can participate in The Fine Art of Female Orgasm regardless of your physical location.
You can view the classes in the comfort of your living room. Or wherever!
You can see them at your convenience. Can't make a session?No problem! Registrants have FOREVER ACCESS to the recordings.
It's also VERY AFFORDABLE. Just $99 for four 75-90 minute sessions plus great extras (a private chat room for participants, forever access to the recordings, and TOTALLY FREE access to my pre-recorded class, Her-gasmic Abundance).
That's right, we're a course with benefits!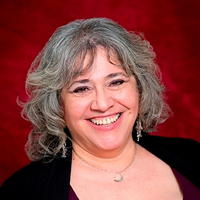 "Sheri is funny, sexy, intuitive, educational, knowledgeable, caring, informative—and always fun. She is like a walking, talking version of Our Bodies, Our Selves, only updated and more accurate." (Pat Parisi, sexuality educator, Toronto, Ontario)
 Sheri's knowledge of human sexual anatomy reaches far beyond the standard textbooks and her entertaining teaching style is not to be missed. At long last, a sex educator who cuts through our unnecessary discomfort about the most pleasurable aspect of being human! Hooray!!!" (Dee Gold, Gaithersburg, MD, yoga teacher and bodyworker)
Fun. Fascinating. Life-changing.