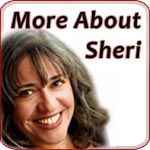 What Makes Sheri Such a Great Teacher?
Her Background. Sheri has been formally trained as a certified nurse-midwife, gynecology practitioner, registered nurse, childbirth educator, massage therapist and artist. She's also an expert in sacred sexuality traditions and holistic healing. Her unique approach integrates modern science, specialized anatomical knowledge, holistic perspectives and ancient esoteric wisdom. It's a combustible combination!
Her Knowledge. Over the course of almost three decades as a nurse-midwife and gynecology practitioner, Sheri developed highly specialized, in-depth knowledge about female anatomy and sexuality.  Her book, Women's Anatomy of Arousal, won a major award because it broke new ground about female genital anatomy and women's sexuality. Combine her decades of teaching and clinical experience with her years of expansive study that includes modern and sacred sexuality, sociology, anthropology, women's studies, holistic healing, psychology and human growth and potential, anatomy (especially neuroanatomy), zoology, language, culture and whatever else has piqued her insatiable curiosity and you'll have an idea of what informs her extraordinary teaching ability.
Her Teaching Ability. Sheri's classes are educational and entertaining. Her fans rave about how her classes combine an extraordinary depth of knowledge, with humor and warmth. She's been teaching one thing or another for over 30 years (massage, childbirth, womancraft, sexuality), so she's really got it down! Students report feeling amazingly comfortable in her classes despite the often charged content. They also report many "AHA!" moments and that her classes have been fabulously transformational. And talk about fun "homework!" When was the last time you came from eating chocolate?
"Until your demo of the three-breath orgasm, I had no idea it was possible to have one with no physical contact, let alone no genital contact. After your workshop, a friend came over and fed me chocolate. On the fourth spoonful, I had an orgasm! Full body big O that had me flushed, panting, shuddering wildly. After that, I had orgasm after orgasm for another two hours. Only holding hands! Talk about quick results and high impact!"    Nancy M. from Toronto, Ontario
Now this is a satisfied customer! If you want to hear what more of them have to say, visit Testimonials.
If you want to know more about Sheri, click here to see her Full Bio