Description
About Succulent SexCraft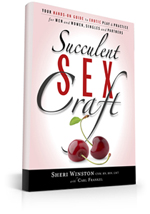 Do you dream of having spectacular sex? Can you imagine becoming an erotic virtuoso? Now it's possible with the help of Sheri Winston's groundbreaking new book!
Visionary yet practical, Succulent SexCraft offers a detailed road map to supercharging your erotic life and becoming sexually whole and empowered. With its wealth of ideas, practices and games, you'll be able to access extraordinary pleasure, overcome challenges and learn to play masterfully with your inner 'sexcraft' toolkit. It's your personal guide to developing a healthy, celebratory and ecstatic relationship with your sexuality.
We all have everything we need to have amazing sex—right inside us. Few people know how to use these 'sexcraft' tools to their best advantage, though. It's not something we get taught in school, right? Nor is it something we usually learn from our partners.