Her-Gasmic Abundance
Your Gift from Sheri Winston!
This online class is lavishly illustrated by Sheri and can be attended online anywhere, anytime, as many times as you like. Enjoy your free gift!
"Her-gasmic" Abundance: The Fine Art of Expanding Female Orgasm
More is better and greed is good! Learn the skills to expand women's arousal and orgasm. You can use your breath, movement, imagery and sound to intensify focus, become utterly absorbed in sensation, and to surrender and relax into wave upon wave of orgasm. Whatever your orgasmic ability, this class will pump it up! Focuses on female orgasm but recommended for men, too. (Coupon Code: HER1).
Price: Free! Just enter coupon code: HER1
---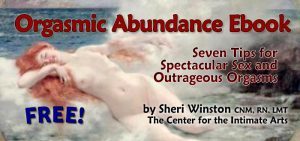 Want more? You can get an Orgasmic Abundance e-book for free.
Read blogs: Vaginal Vs Clitoral Orgasm
Watch Videos: A Woman Asks: How Can I Have Orgasms with Intercourse?
Video: Three Breath Orgasm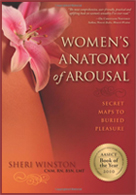 Read the BOOK: Get a radical, essential and integral understanding of female anatomy and sexuality: check out Sheri's award-winning book, Women's Anatomy of Arousal: Secret Maps to Buried Pleasure.
About Sheri: Celebrated Wholistic Sexuality teacher Sheri Winston CNM, RN, BSN, LMT delights in inspiring folks of all kinds and ages to have a lot more pleasure, fun and fulfillment!  She's the author of Women's Anatomy of Arousal: Secret Maps to Buried Pleasureand Succulent SexCraft: Your Hands-On Guide to Erotic Play and Practice. Sheri is a groundbreaking, award-winning author, teacher, blogger and 'sexpert' who offers empowering entertaining erotic education for everyone.