Welcome! You've Come to the Right Place for Your FREE Gift!
Four Recorded Classes with Sheri Winston: Secrets of Female Pleasure
Award-winning sex teacher Sheri Winston shares essential information that we all need for our own or our partner's sexual fulfillment. With this new knowledge, you'll be able to expand your arousal and orgasm. Use these new maps of female sexuality and erotic energy to experience the full ecstatic pleasure that is your birthright—and your partner's, too! 

IMPORTANT: How To View the Course
'Buy' the course (for $0).
Log in to this website using your email address and password. You will be required to create an account because you need to have an account to view the course, which can only be streamed. (No downloading.)
You will be asked for credit card information even though your cost is $0. Our apologies for this: We are unable to turn off credit-card capture for products that are discounted to zero. You will not be charged and we cannot see the full number.
A password will be automatically generated for your account unless you select one. It will be emailed to you. Check your spam filter if you don't receive it in your main inbox!
After you've acquired the course, you can access it from your account page, which is the first page that shows up after you log in. There are four videos and a 'homeroom' page. Start with the 'homeroom' page! And enjoy …
The Secrets of Female Pleasure online course includes:
Four recorded class sessions.
Your private Home Room page with tons of additional resources, such as articles, book suggestions and video resources,
Specially designed Home Play Assignments to help you embody the learning.
Unlimited 24/7 access to the recorded webinars.

What You'll Learn, Week by Week
Week One:
Old and new: maps and models of sex
Language
History

Western views of women and women's sexuality
Learning the body: the study of anatomy

Genital amnesia
One integral system: babies, bliss and bonding
Week Two:
Old models of men and women
New models of polarity

Yin and yang
Pussies and puppies
Core-yang (most men) and core-yin (most women) sexual energy and arousal patterns
Week Three:
Sexual energy
Erotic energy maps
Techniques and tips
Partner support
Toys
Week Four:
Desiring differently
Turning on your pussycat

Solo practices
Partner practices
Partner communication

Owning outrageous female pleasure
About Sheri Winston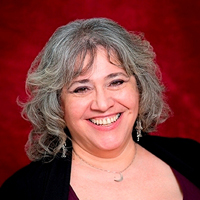 Sheri Winston is a celebrated sexuality teacher, an award-winning author and a medical professional. She brings over two decades of experience as a certified nurse-midwife and gynecology practitioner plus over a decade as a sex teacher to her work on sex, sexuality, women's health and relationships. Her book Women's Anatomy of Arousal: Secret Maps to Buried Pleasure won the 2010 Book of the Year award (American Association of Sex Educators, Counselors and Therapists)
---
"Sheri Winston is funny, sexy, intuitive, educational, knowledgeable, caring, informative—and always fun. She is like a walking, talking version of Our Bodies, Our Selves, only updated and more accurate." (Pat Parisi, sexuality educator, Toronto, Ontario)

"Sheri's knowledge of human sexual anatomy reaches far beyond the standard textbooks and her entertaining teaching style is not to be missed. At long last, a sex educator who cuts through our unnecessary discomfort about the most pleasurable aspect of being human! Hooray!!!" (Dee Gold, Gaithersburg, MD, yoga teacher and bodyworker)