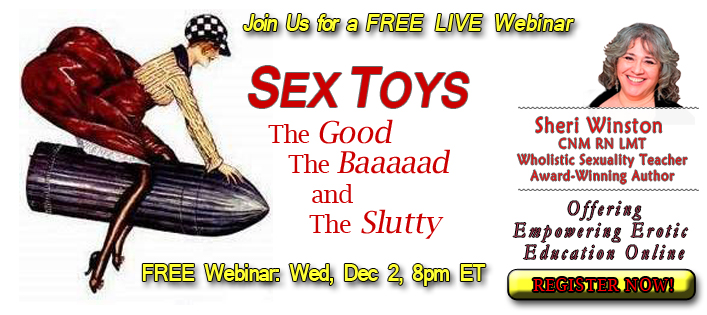 Every time I teach (about anything!) I get questions about sex toys. So, as our holiday treat for you, here's a free online class about a topic near and dear to my heart (and other parts!)
Sex toys! They are hot! They're great for enhancing a sexual encounter, and they're also increasingly popular. More and more people are using them these days—they're being sold just about everywhere!
But how do you figure out how to get the most bang for your buck? (as it were!)
Perhaps you're wondering:
What types of sex products will work for me and my partner(s)?
What options are available (vibrating/not vibrating, internal/external, etc.)?
Does it make sense to invest in more expensive sex toys?
The Sybian is a legendary sex toy. Might it be for me?
Are there certain types of material to seek out and others to avoid?
What about sex toys for men?
FREE

WEBINAR


Sex Toys: The Good, the Baaad & the Slutty
Join us LIVE:
Wednesday, Dec. 2, 8 pm ET
In this FREE live webinar, I, Sheri Winston, award-winning sex teacher will take you on a tour of the big, wild world of sex toys. Like all of our classes, this one will be fun, fascinating, and informative. You'll get great guidance in what to look for (and avoid).
I'll introduce you to some of my favorites—and there are some amazing sex toys out there. AND, IF YOU JOIN US LIVE, I'LL ANSWER YOUR PERSONAL SEX TOY QUESTIONS!
Just in Time for the Holidays!
Have you been thinking of shopping for sex toys for your holiday gifts to those who've been naughty and nice? Then this webinar is for you.
Find out what toys are going to sky-rocket your pleasure, what to avoid and some useful information to get the most out of your toybox.
Yes,  want to have a happy and JUICY holiday! Sign me up for your sex toy webinar!
Our online webinars are an easy way to learn in the comfort and privacy of your own home. If you miss the live class, you can get the replay (although attending the live event allows you to get your questions answered!)
Sign up now to join us or to get access to the replay.
About Sheri Winston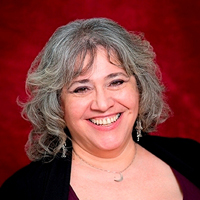 Sheri Winston is a celebrated sexuality teacher, an award-winning author and a medical professional. She brings over two decades of experience as a certified nurse-midwife and gynecology practitioner plus over a decade as a sex teacher to her work on sex, sexuality, women's health and relationships. Her book Women's Anatomy of Arousal: Secret Maps to Buried Pleasure won a national prize (2010 Book of the Year, American Association of Sex Educators, Counselors and Therapists) because it broke new ground about female genital anatomy.