Wholistic SexualityTM & Intimate Arts Curriculum
Overview and Descriptions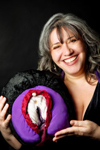 Our unique Wholistic SexualityTM classes and workshops encompass a wide variety of educational experiences. They are based on the Wholistic Sexuality™ framework and currently number over 50 classes. We also customize classes for a particular sponsor, business, event or conference.
We know that that's a lot so we also have a short list of our most popular offerings. Click here for the short list.
The curriculum is also divided into seven categories.  Scroll down the page to see our full list. Click on the title of each class to see the description.
Please visit our FAQ for lots more more information. If you want to sponsor or attend a class we don't have listed, or have any questions, please contact us and let us know!
Most classes are for everyone! Men, women, singles, partners and people of every orientation and inclination are welcome. Being in a relationship is not required!
*Women-Only, Men-Only and Partner-Only classes are indicated.
Overview: Curriculum Categories
1. Solo SexCraft
2. Intimate Arts & Relation-Skills
3. Getting Deeply In-Touch
4. WomanCraft
5. Courses For Teens & Their Adults
6. Wholistic SexualityTM For Professionals
7. Intensives & Retreats
1. Solo SexCraft Playshops & Classes
These classes focus on "solo skills" — the techniques, inner tools and skills that we can develop to learn to expand our repertoire of what's possible. Each of us has the ability to experience pleasure and ecstasy, create and increase our own arousal, and build, move and dance with our sexual energy.
2. Intimate Arts & Relation-Skills Classes
These are the skills you need to learn to play nicely with others. These classes focus on "partner skills" — the techniques, connection tools and relationship skills that we need to have sustainable, joyous, authentic relationships, exquisite intimacy and really hot sex. They are for people who are interested in intimate relationships, whether or not you're in one currently.
Since these classes focus mainly on skills, you don't have to be in a relationship to benefit from them. Nor do you need a partner to attend most of these classes. Unless noted otherwise, these classes are for both singles and partners. (A few are for couples-only and are so indicated.)
3. Getting Deeply In-Touch – Touch Techniques Classes
4. WomanCraft Curriculum
These classes focus on women's mysteries, magic and health. Much of this is woman-related, but not necessarily for women only! For more information, please visit the question regarding WomanCraft on our FAQ.
5. Courses for Teens & Their Adults
6. Wholistic SexualityTM Courses For Professionals
These classes focus on the needs of health care and healing professionals to be able to understand and help their clients in the quest for sexual healing and wholeness. The basic class introduces them to the core concepts of Wholistic SexualityTM and provides pathways for incorporating this integrated model into their practice. Classes with more specific focus can be arranged.
7. Wholistic SexualityTM & Intimate Arts Retreats & Intensives
Retreats and Intensives provide an opportunity for people to create a safe and accepting community, enabling us to dive deeply into our sexual growth journey in a safe space with freedom to expand and explore. Intensives and retreats are opportunities to delve deeply into the mysteries of sexuality and spirituality in an intimate, caring and respectful community. Come and play with love, revel in the intensity and celebrate your sacred sexual self. For more information about retreats, or to discuss your concerns and questions, please contact us.