We must be doing something right! We've written (and published) four books and two have won national prizes! You can buy them all here.
Our TWO AASECT Award Winners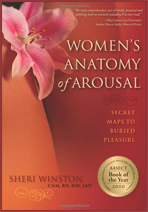 Women's Anatomy of Arousal
Secret Maps to Buried Pleasure
by Sheri Winston CNM, RN, BSN, LMT
2010 AASECT Book of the Year
The clitoris is just the tip of the volcano. Women have a largely unknown network of structures responsible for arousal and orgasm that even most medical professionals don't know about (such as the vestibular bulbs and the erectile sponges). This leaves women trying to discover their sexual potential without accurate guides. Sexuality teacher, nurse-midwife, and gynecology practitioner Sheri Winston has put the missing pieces together, creating the first-ever accurate, integrated maps of women's anatomy and sexuality. This fun, sexy, empowering guide combines lost knowledge with ancient and modern sexuality information to illuminate every woman's secret paths to fabulous, orgasmically abundant sex.
The book is chock-full of information, illustrations, erotic art, games and exercises, hot tips for guys, a guided tour, wholistic sexualityTM, orgasmic abundance … and more, more, more!
The most comprehensive, user-friendly, practical and uplifting book on women's sexuality I've ever read"
(Dr. Christiane Northrup, author, Women's Bodies, Women's Wisdom)
Over 80% five-star reviews on Amazon (out of over 100 reviews)!
---
 

Secrets of the Sex Masters
Co-authored and edited by Carl Frankel
2015 AASECT Book of the Year
For Secrets of the Sex Masters, master journalist Carl Frankel interviewed nineteen of the world's best sex teachers and, in partnership with them, turned the interviews into chapters that will help readers have the best sex of their lives.
Chapters cover what you might expect (oral sex, anal sex) as well as topics that are essential to having great sex but aren't covered in most books on the subject such as shame and sex, finding the lover within, male and female genital anatomy, and eroticizing safer sex. There are also chapters on high-level skills such as expanded orgasm for women, non-ejaculatory orgasm for men, female ejaculation, Tantra and energy sex.
All in all, you'll get a great mix of need-to-know information and Jedi-like capabilities that anyone can learn.
Contributors include:
The legendary porn actress Nina Hartley
and her husband, the master dominant Ernest Greene (BDSM)
Joseph Kramer, the creator of Sexological Bodywork, founder of The Body Electric and more (touch skills)
Our own Sheri Winston, the award-winning sex educator and medical professional (genital anatomy and sexual energy)
Charles Muir, who is widely credited with bringing Tantra to the West (Tantra)
Female ejaculation expert Tallulah Sulis
Taoist master Michael Winn (male non-ejaculatory orgasm)
The creative and insightful Karen B.K. Chan (sex as improv and creative play)
Dr. Patricia Taylor (expanded female orgasm)
Rising sex-educator star Megan Andelloux (fantasy and communication)
Torontonian sex writer, sex educator and all-around provocateur Jon Pressick (anal sex)
Carlyle Jansen, owner of Good for Her in Toronto, master sex educator and prominent player in the sex-positive movement (oral sex)
Canadian sex educators Nadine Thornhill
and Jessica O'Reilly (keeping the spark alive)
The thoughtful and insightful Charlie Glickman, Ph.D. (sex and shame)
The gifted sex educator Reid Mihalko (energy sex)
The Tantrika Caroline Muir (finding the lover within)
Jaeleen Bennis, founder of Bondassage(TM) (Bondassage)
Sex educator Eve Minax (eroticizing safer sex).
"Explicit personal advice from some of the world's most renowned sex experts … a wise manual for how to reach optimal physical, mental, emotional and spiritual states through sexual experience."
Susan Stiritz, Sexuality Educator and Senior Lecturer, Washington University in St. Louis
---
Succulent SexCraft
Your Hands-On Guide to Erotic Play & Practice
By Sheri Winston CNM, RN, BSN, LMT with Carl Frankel
Do you dream of having spectacular sex? Can you imagine becoming an erotic virtuoso? Now it's possible with the help of Sheri Winston's groundbreaking new book!
Visionary yet practical, Succulent SexCraft offers a detailed road map to supercharging your erotic life and becoming sexually whole and empowered. With its wealth of ideas, practices and games, you'll be able to access extraordinary pleasure, overcome challenges and learn to play masterfully with your inner 'sexcraft' toolkit. It's your personal guide to developing a healthy, celebratory and ecstatic relationship with your sexuality.
We all have everything we need to have amazing sex—right inside us. Few people know how to use these 'sexcraft' tools to their best advantage, though. It's not something we get taught in school, right? Nor is it something we usually learn from our partners.
"Succulent SexCraft is an adventurous, practical, and delightful guide to owning and operating your sexuality – with or without a partner. This book is superb."
-Christiane Northrup, M.D., author of the New York Times bestsellers: Women's Bodies, Women's Wisdom and The Wisdom of Menopause
"A manifesto and map to the heart-centered lovemaking all people crave. A bio-hacking guide to your body's pleasure potential."
-Susan Bratton, relationship expert, Personal Life Media
With Succulent SexCraft, you'll get this specialized knowledge laid out in a clear and entertaining manner, along with lots of suggestions for sexy fun, illuminating 'playshops' and super-useful practices. Whatever level your sex life is at, no matter how happy (or unhappy) you are with it, Succulent SexCraft will help you take it higher.
Best of all, it's written for everyone, singles and partners. Whatever your orientation or relationship status—no partner, one partner or lots of them—Succulent SexCraft will enable you to ramp up your sex life to extraordinary levels.
This isn't one of those books 'for dummies'—this is sex for smarties! Drawing from sacred sexuality traditions, modern sexology, holistic perspectives and a deep understanding of our wondrous anatomy, Succulent SexCraftoffers a rich banquet of sexy games, fun activities and invaluable information. Plus, it's lavishly illustrated with contemporary and vintage erotic art. Succulent SexCraft is a holistic, integral feast that will satisfy every part of you—heart, mind, body and spirit.
When you buy Succulent SexCraft, you also get FREE ACCESS to the special "Members Only" section of our website with lots of additional information. You're not just getting extra tools and tips, you're getting an entire online learning community!
Succulent SexCraft is the gift that keeps on giving—a lifetime of ecstasy.
---
Love and the More Perfect Union
Six Keys to Relationship Bliss

By Carl Frankel
Love and the More Perfect Union combines proven strategies for achieving relationship harmony with the "continuum of connection," an innovative model of emotions that provides invaluable insights into how we love and the energetics of intimate relationships. It distills the complex world of relationships to its essentials, surfaces secret challenges and opportunities, and serves up six simple and actionable precepts for harmony and happiness. With its call for creative culture-creation and positive thinking, it is fluff free, straightforward, wise, elegantly written and immensely useful. Find out why one recent reader called it "a great resource for anyone interested in creating more paradise within their relationship.
Intimate relationships are massive, murky territory. They're crisscrossed by a tangle of motivations—lust, love, attachment, loyalty, necessity, and more. They're the heart of darkness and the heart of light, too. By their very nature, they defy rational analysis. We stumble into relationships and do our best to muddle through. For most of us, being in a relationship is like trying to drive from Albuquerque to Newfoundland without a map.
These pages provide a compass. More specifically, you will come away from these pages with four specific information sets:
An understanding of the three core yearnings that drive our behavior in relationships.
Insight into a paradox that is inherent in all relationships. We yearn to be autonomous and we also yearn to connect. The result: we're often out of synch with our partners, not to mention ourselves. Relationships require ongoing management of this tension.
A visual map for understanding the dance of relationship and how to manage it skillfully. In the context of action, we humans thrive on concreteness. We benefit from clear mental maps. Yet, as noted earlier, we tend to navigate our relationships without them. By this map, there are five chambers in the house of love. In this book, you will learn what they are, how to identify which one you're in, and how to migrate to one that feels better.
The understanding that the work of relationship includes Tiny Country Creation. We are all Founding Fathers and Mothers in our intimate relationships.
Carl Frankel is a writer, entrepreneur and Sheri Winston's partner at The Center for the Intimate Arts. A national thought leader on sustainability and socially responsible business, his acclaimed 2004 book Out of the Labyrinth offered a model of psyche and culture that provided deep insights into the nature of our global challenge. With Love and the More Perfect Union, Frankel brings his special aptitude for high-level modeling and insights to the world of relationships.
---