Wholistic Sexuality
An Emerging Paradigm of Erotic Empowerment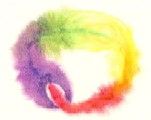 We seek to catalyze radical sexual transformation for individuals, our culture and the world.
What is Wholistic Sexuality?
It's time for an evolution in our understanding and experience of sexuality, both personally and culturally. We need an integrative model of healthy, loving, responsible, respectful and ecstatic sexuality. Sheri Winston, a medical professional, counselor and educator, developed the Wholistic Sexuality model, which is the framework for the Wholistic Sexuality curriculum in response to this need. It is based on a perspective of sex that addresses the interplay of culture and biology, and incorporates the wisdom of ancient sex-positive cultures with little-known anatomical and scientific information. It is premised on this all-important notion: your sexuality is first and foremost about your relationship with yourself.
A second major premise is that we learn sex, much like learning to play an instrument or speak a language. Once we expand our understanding of our erotic potential, we have the power to learn to become a virtuoso of our own sexuality. The Wholistic Sexuality curriculum of classes and programs offers innovative models of what sex can become, and maps the paths to get you there. To specifically learn more about the core ideas, please read Sheri's article on Wholistic Sexuality. We invite to visit our Learning Center to see her selection of writings.
Sheri is funny, sexy, intuitive, educational, knowledgeable, caring, informative — and always fun. She is like a walking, talking version of Our Bodies, Ourselves, only updated and more accurate. If you thought you already knew about your yoni, trust me you'll learn more!

-Pat Parisi, Sexuality & Relationship Workshop
Facilitator, Livingston Manor, NY
Sheri founded the Center for the Intimate Arts as a way to expand the vision and create an umbrella organization to encompass a wide array of educational and sexual health classes, products and activities.
The core Wholistic Sexuality curriculum includes over 50 "clothes-on" classes, covering topics such as genital anatomy and physiology, sexual skills, accessing ecstatic states, conscious communication and relationships, and much more. Formats include lectures, workshops, and teleseminars.
Join our e-mail list to receive information about upcoming events including FREE E-book & introductory teleseminars and other special offers.
Sheri is a wealth of information. I have had the privilege of attending several workshops of her over the years. Her varied life experience combined with her academic knowledge is a winning combination! She can discuss very serious subjects in a professional, yet fun and relatable way. Her enthusiasm is contagious!

– Kyle Applegate, NYC, NY, Sexuality Educator
What do you mean by Wholistic?
We use the term wholistic in the sense that we are each a unique whole being, with many facets or aspects. Our bodies, hearts, minds and spirits are interconnected and integral parts of our being. This wholistic perspective also includes not just you as an individual but everyone and everything that you're in relationship with, including your partner(s), family, communities, culture and indeed, the whole planet.
The intention behind the Center is to educate and empower, spread pleasure, heal relationships, and reconnect humanity to the sacred web of life through loving ourselves, honoring our sacred bodies, and connecting to the Divine through our ecstasy. Sex is what sparks life, yours included. How can it be anything less than sacred?
Sheri is a powerful person with a powerful message and wonderful teaching technique. I have learned something new every time I've spent any time with her.

– Jack Albertz, Asheville, NC