Our Team

Sheri Winston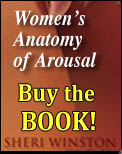 , CNM, RN, BSN, LMT is the founder and executive director of The Center for the Intimate Arts. Her unique perspective, Wholistic Sexuality™, is derived from decades of experience as a certified nurse-midwife, gynecology practitioner, registered nurse, holistic healer, childbirth educator, massage therapist and student of the esoteric erotic arts. Her classes and workshops for men and women are celebrated for their fun, non-threatening character and the superb quality of the information.
Carl Frankel is managing director of The Center for the Intimate Arts. He brings three decades' experience as an entrepreneur and writer to his role as head of business operations. A graduate of Columbia Law School, he has worked with numerous start-up and early-stage companies as a consultant, team member and owner. He has worked extensively with green companies and is a nationally-known expert on socially responsible business.
The Rest of Our Team
The Center is also composed of all of the members of our community; volunteers; everyone on our email list; folks who've attended classes and programs; program sponsors; affiliates; and everyone else who's helping to support our vision in whatever way!