---
Sheri Winston – CNM, RN, BSN, LMT

Wholistic Sexuality Teacher
Founder and Executive Director
Intimate Arts Center
Sheri Winston is a celebrated sexuality teacher, award-winning author and medical professional. She offers classes, workshops and retreats online and at in-person venues such as sexuality boutiques, privately sponsored classes, conferences and educational institutions. Sheri teaches for the general public and also offers professional level trainings for health care providers, counselors and educators.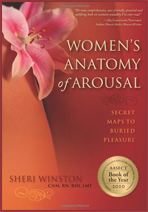 Sheri's 2010 book, Women's Anatomy of Arousal: Secret Maps to Buried Pleasure, won the 2010 Book of the Year award from AASECT (the American Association of Sex Educators, Counselors and Therapists). The educator and author Dr. Christiane Northrup has called it "the most comprehensive, user-friendly, practical and uplifting book on women's sexuality I've ever read."
Sheri's 2014 book, the visionary yet practical Succulent SexCraft: Your Hands-On Guide to Erotic Play and Practice, offers a detailed road map to supercharging your erotic life and becoming sexually whole and empowered. With its wealth of ideas, practices and games, readers are able to access extraordinary pleasure, overcome challenges and learn to play masterfully with their inner 'sexcraft' toolkit. "A must-read for anyone who wants to improve their erotic virtuosity." (Jaiya, award-winning sexologist, author and creator of SexIsYou)
Sheri's Wholistic Sexuality™ curriculum has over 50 classes covering subjects such as orgasmic abundance for men and women, integral genital anatomy, expanded arousal, sex and relationship skills,  and holistic sexual and women's reproductive health.
Sheri's Story
My journey to being a sex teacher began when long ago. It started when I became a licensed massage therapist in 1980. Soon after, I felt the calling to become a midwife and began assisting and apprenticing at home births, became a childbirth educator and doula. I decidedto become legally certified (which in the United States becoming a registered nurse), so I attended nursing school at SUNY/Stony Brook. I graduated valedictorian, summa cum laude, and received my BSN (Bachelor's degree in Science of Nursing) and become a RN (registered nurse).
Next, I attended midwifery school for my graduate education, finally becoming a certified nurse-midwife and gynecology nurse-practitioner. All along the way I also studied many forms of holistic healing including herbalism, energy healing, bodywork, guided imagery and counseling as well as a variety of sacred sexuality traditions (predominantly Tantra, Taoist and several Native American traditions).
Spending twenty years at the altar of birth turned out to be the best possible apprenticeship I could have had for becoming a sexuality teacher. The birth process, the women I worked with, and my many teachers taught me so much. In fact, without even realizing it, the childbirth classes that I was teaching throughout my twenties were training me to have better sex. My goal was to help women get in touch with their innate wisdom and discover how to use their inner tools to cooperate with the natural process. For years, I was teaching women how to breathe themselves into an altered state; how to surrender to the tide of labor; how to release their sound and use it to open themselves; and how to use their pelvic muscles as well as their mind to facilitate the birth process. I now know that all of these are the same tools anyone can use to have great sex (and great births.)
During my twenties, I was unwittingly incorporating these skills and practices into my own increasingly fabulous sex life. Around thirty I became aware that I'd been unconsciously using these techniques. I promptly decided to start learning and practicing them purposefully and began to add classes, readings, workshops and trainings with teachers of ancient sexuality traditions as well as modern sexology.
I retired from birthing babies in 1999, although I continued providing gynecology care for another five years. I began development of the The Center for the Intimate Arts and my Wholistic Sexuality™ curriculum during that time. I retired from clinical care in 2005 to dedicate myself full-time to teaching, counseling, running the Center, writing and expanding my offerings.
I am passionate about passion! I want everyone to know how to have ecstatic erotic experiences and amazing intimacy as well have accurate information about their anatomy and sexual health. I have since made it my personal mission to bring my specialized knowledge to everyone: men and women (and everyone in between), adults and teens, folks of all inclinations and orientations.
I think of it as midwiving peoples' sexuality!
Juicy Blessings to All!
Sheri