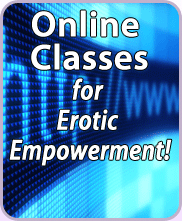 Online Classes
Online classes are lavishly illustrated lectures by Sheri that you can "attend" online anywhere, anytime, as many times as you like. That's right: the number of views is unlimited!
We currently have six online classes. Each class runs 1.5 hours. Most but not all were recorded live and include a Q&A. In early October 2012, we re-shot "Her-Gasmic Abundance" to now feature Sheri in-camera in full instructional mode. Even if you have the old one, you might consider ordering this new version.
Once you've placed your order, you'll receive an e-mail with specifics about how to access the class. If for some reason you don't get that e-mail, please contact us and we'll make sure you get the necessary link.
*Technical note: If you have a Mac, you need OS X 10.5 or higher to access these classes.
Currently Available On-Demand Online Classes