Your Free Giveaway
We're so glad you heard Sheri's presentation!
Here is the link to your free Her-gasmic Abundance online class.
Important Note: Put '0' in the 'name a fair price' box to get the class for free.
Enjoy!
---
---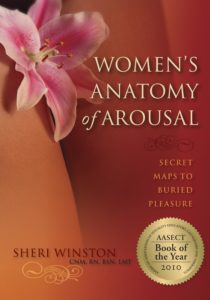 Get More Women's Anatomy of Arousal!
Women's Anatomy of Arousal provides the life-changing and integral map that all women (and their partners) need.
Want to learn more about women's astounding, engorgable and delightful erotic equipment?
Find out why Dr. Christiane Northrup has called Women's Anatomy of Arousal "the most comprehensive, user-friendly, practical and uplifting book on women's sexuality I've ever read. It's the gold standard!"
WINNER, 2010 BOOK OF THE YEAR AWARD! (From The American Assoc of Sex Educators, Counselors & Therapists)