(Scroll down for the Female Sexual Anatomy Quiz!)
Women's Anatomy of Arousal
Four Wednesday Classes: March 2016: 2, 9, 16, 23. 8pm ET.
Your cost: $129 (Scroll down for multi-course discounts)
Includes four live webinars, private 'home room' page with text and video resources, 'home play' assignments, 'forever' access to the webinars, and more
Given how much interest there's been in the topic historically, you'd expect people to know all there is to know about female sexuality and female genital anatomy. Well, they don't. The vast majority of people know amazingly little about women's sexual parts—and this is true for owners of the equipment as well as visitors.
Take this short quiz to find out how much you know (or don't)! Then scroll down below the quiz to learn more!

How did you do on the quiz? If there are parts down there didn't know about, you're not alone. Along with most of the other people in the world, you're missing out on some sources of amazing pleasure.
Here's the simple truth: Less knowledge in bed means less pleasure in bed. After all, if you want to ramp the pleasure up to eleven, you've got to know how to work the dials.
Sheri Winston is one of the world's leading authorities on female genital anatomy. She won a national prize because her book Women's Anatomy of Arousal broke new ground about female genital anatomy.*
In this groundbreaking four-class online course, you can study the secrets of female sexuality and anatomy with Sheri directly. She will share her knowledge and answer your questions in the live classes and also in the private chat community that's reserved for participants. You'll also get lots of additional resources (both text and video), suggested 'home play' assignments, and other goodies, too.
Here's a tiny taste of what you'll get …
Sheri is an amazing teacher who gets rave reviews from her students. Now you can find out for yourself, affordably and conveniently—and ramp up your sex life in the process!
In this comprehensive, informative, comfortable and fun course, you'll discover new maps of women's bodies and get essential information that ramps your pleasure up from "Oh" to "Oh! Oh! Oh!"
Among the special treats: Unique anatomy images, classic erotic and humorous art, plus demonstrations on an anatomically correct 'vulva pillow!'


What You'll Learn, Week by Week
Week One:
Do we have accurate maps of female genitalia?
No! Why not?
What's missing: most of the parts responsible for arousal and orgasm
Become your own expert! Take yourself on a tour

Tour guidance: solo and partnered

Delicious diversity and vulvic variety
External vulva
Go on your tour of the outer banks
Pleasuring the Parts!
Week Two:
The bony cradle: pelvis
Pelvic floor muscles
Excitable, engorgeable erectile tissue
An erector set of her own: the female erectile network (the three-part clitoris, the vestibular bulbs, the urethral and perineal sponges
Connected circuits
Go on your tour: the bones and the female erectile network
Pleasuring the Parts!
Week Three:
The inner sanctum
The vagina: an active expandable accordion
A womb of her own

The moving uterus
Cervix and os: fertility and pleasure

The nerves!
Orgasm: what's all this about clitoral and vaginal orgasms?
Go on your tour: vagina and cervix
Pleasuring the Parts!
Week Four:
Glorious glands

Female ejaculation
Ecology of the vaginal environment

Last butt not least: the anus
Go on your tour: Female ejaculation, vaginal ecology and anal pleasure
Pleasuring the Parts!
Putting it all together: an integral map.
Remember—it's not just these classes you'll be getting. You'll also get additional resources, suggested 'home play' assignments, and a private community to support you on your learning journey.
And if you can't attend live, you have 'forever' access to the webinars as part of your price of admission!

Discount Available!
March 2016: Women's Anatomy of Arousal
April 2016: The Learnable Art of Female Ejaculation
A generous discount is available! Take 20% off with the purchase of both courses (use the coupon code 'TAKETWO').
About Sheri Winston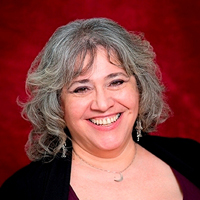 Sheri Winston is a celebrated sexuality teacher, an award-winning author and a medical professional. She brings over two decades of experience as a certified nurse-midwife and gynecology practitioner plus over a decade as a sex teacher to her work on sex, sexuality, women's health and relationships. Her book Women's Anatomy of Arousal: Secret Maps to Buried Pleasure won the 2010 Book of the Year award (American Association of Sex Educators, Counselors and Therapists)
"Sheri Winston is funny, sexy, intuitive, educational, knowledgeable, caring, informative—and always fun. She is like a walking, talking version of Our Bodies, Our Selves, only updated and more accurate." (Pat Parisi, sexuality educator, Toronto, Ontario)
"Sheri's knowledge of human sexual anatomy reaches far beyond the standard textbooks and her entertaining teaching style is not to be missed. At long last, a sex educator who cuts through our unnecessary discomfort about the most pleasurable aspect of being human! Hooray!!!" (Dee Gold, Gaithersburg, MD, yoga teacher and bodyworker)
"I would jump at the chance to take another class with Sheri. She creates a safe, wise, tasteful, respectful and loving environment. What and how she teaches is life-changing in the best way. And she makes me laugh!" (Robin S., Washington DC)
"Sheri could not be a better teacher. She is sharing adult sexual information that can't be found anywhere else. Her presentation on anatomy is earth-shaking. Her work should be the gateway for all teachers and students seeking mastery in adult sexuality. Thank you so much! (Donna L., New York NY)
 And check out these video testimonials!


Still Undecided?
Check out our FAQ for more information about our online educational opportunities.
What is a lifetime of more pleasure worth to you? More than $129, surely! Invest in yourself and in your right to pleasure!