Holiday Special Offer:
GIVE MORE PLEASURE!

GIVE Signed Books
PLUS A Free Bonus Book
PLUS Free Shipping!
All This at the Regular Retail Price!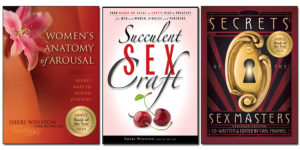 It's the holidays and it's time for generous giving and gifting! Which makes now the perfect time to get signed copies of any of our books—a unique and a very special gift. Plus, with every order we'll give you a FREE book, a copy of my partner Carl Frankel's wonderful Love and the More Perfect Union, along with FREE (Domestic) Shipping! All this for no added charge!
Signed Books
Give a special SIGNED copy of any (or all) of our books! Make the books even more special by giving a hand-signed copy!

Women's Anatomy of Arousal: Secret Maps to Buried Pleasure
by Sheri Winston
An award-winning book* that shows you that women have a largely unknown network of structures responsible for arousal and orgasm that their owners and even most medical professionals don't know about. Sheri integrates ancient wisdom, lost knowledge and modern sexuality information in a sexy, fun, empowering guidebook that illuminates every woman's secret paths to fabulous, orgasmically abundant sex.
"The most comprehensive, user-friendly, practical and uplifting book on women's sexuality I've ever read. It's the gold standard!"
-Dr. Christiane Northrup
Succulent SexCraft: Your Hands-On Guide to Erotic Play & Practice by Sheri Winston with Carl Frankel

Visionary yet practical, Succulent SexCraft offers a detailed road map for everyone to supercharging your erotic life and becoming sexually whole and empowered.
"Sheri has been one of the biggest influences in empowering me around my sexuality.  It's amazing what I learned!  I want everyone to have access to the information she imparts!"
-Alison Bristow, Entrepreneur, Studio City, CA
Secrets of the Sex Masters by Carl Frankel

In this award-winning book*, master journalist Carl Frankel interviewed nineteen of the world's best sex teachers and, in partnership with them, turned the interviews into chapters that will guide readers to having the best sex of their lives.
"This book is a gem! Carl Frankel has brought together a group of intelligent, knowledgeable and interesting people and masterfully curated their contributions. The result is a book that's both practical and profound."
-Ita M.
PLUS, A Very Special Holiday Gift For You…
Get a FREE signed copy of Love and the More Perfect Union: Six Keys to Relationship Bliss
It's by Carl Frankel, Sheri's life and business partner and in Sheri's view a great writer and really interesting thinker. Discover his brilliance for yourself in this relationship model and guide that's been super-useful for them as a couple. It's fluff-free, straightforward, wise, elegantly written and immensely useful. Find out why one recent reader called it "a great resource for anyone interested in creating more paradise within their relationship."
Get FREE SHIPPING on orders to USA destinations!**
We'll ship for free anywhere in the continental USA.
Enjoy all the pleasure you deserve and spread the love, too!
That's right: You get signed copies of any of our three books for the regular retail price, free shipping and Carl's book, Love and the More Perfect Union for free!

Treat yourself, your partners and your friends and family to zestier loving, abundant pleasure and an empowered erotic life. This is truly the gift that keeps on giving!
Juicy & Pleasurable Holidays to All!
Sheri & Carl & the Intimate Arts Team
* Women's Anatomy of Arousal won the coveted THE BOOK OF THE YEAR in 2010 from the American Association of Sexuality Educators, Counselors and Therapists AND Secrets of the Sex Masters won in 2015!
** Note: Unfortunately, we must charge postage for overseas orders. Contact us for details.
Save
Save
Save
Save
Save
Save
Save
Save
Save