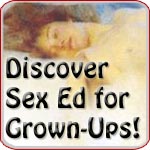 Sex Ed for Grown-Ups! Finally!
Empowering, Erotic Education for You!
Many people don't realize this, but you can get better at sex the same way you can get better at golf or tennis. Yes, sex comes naturally, but it's also a learned skill. Whatever your starting point is — whether you feel broken, supremely talented, or somewhere in between — you can have (and give!) more bliss in bed.
Would you like to achieve your full, vast, expanded sexual potential?
Are you ready to have extraordinary intimate relationships?
Do you want to experience vibrant sexual health?
Do you want to enjoy all the pleasure, connection, ecstasy and intimacy you possibly can?
Do you believe the world would be a saner, healthier place if people celebrated their sexuality instead of suppressing it?
Would you like to be an erotic virtuoso?
If you've answered yes to any of these questions, you've come to the right place. We've helped thousands of men and women transform their sex lives.
We regularly get rave testimonials from customers who tell us their intimate life went to the next level (or better) with the help of master teacher Sheri Winston's guidance.
Whatever your gender, regardless of your orientation or inclination, we can help you achieve more pleasure, health and fulfillment.
Our Educational Offerings
Sheri Winston is a medical professional and award-winning author and sex teacher. She's developed a unique approach to sex education (Wholistic SexualityTM), which she offers in a variety of formats:
The Best Cost-to-Pleasure Ratio Ever!
What would you pay for a lifetime of more bliss in bed and a transformed relationship with your sexuality? A dollar a day? A thousand dollars a year? Five thousand dollars a year? More?
However you tally it, it's sure to add up to a lot more than the cost of a book or a few classes.
The simple truth is: we offer amazing value. And it's right here, if you want it!